Subliminal Laser Therapy is a Macular treatment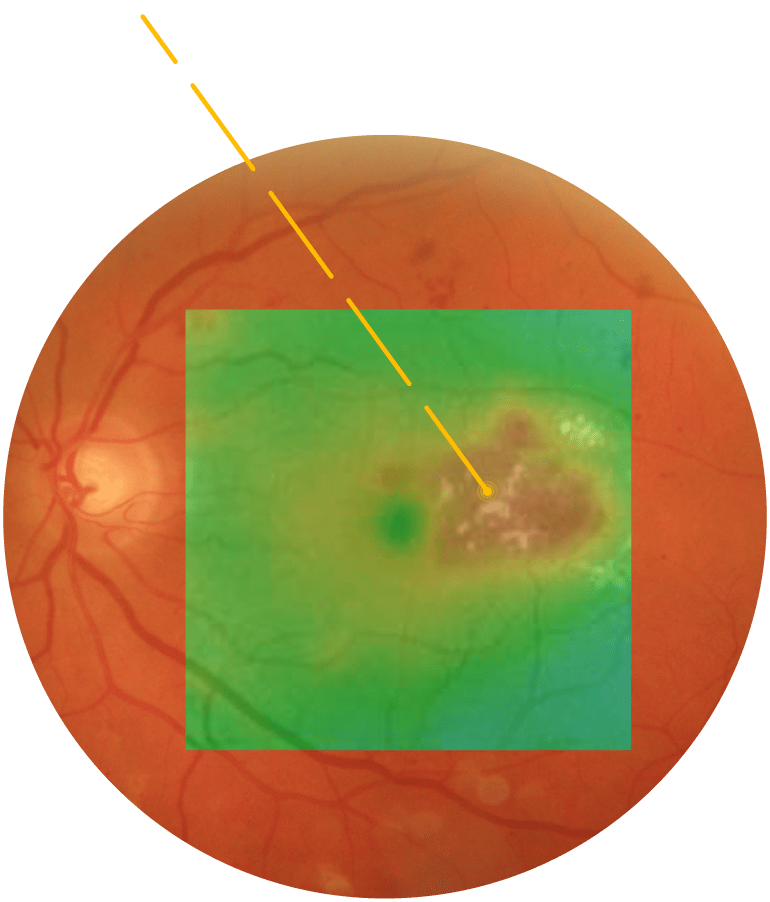 SubLiminal laser therapy is currently most commonly used in cases of retinal vascular diseases with macular edema, such as diabetic macular edema (DME) or central serous chorioretinopathy (CSR).
Other macular pathologies can also be considered like macular edema secondary to branch retinal vein occlusion (BRVO) or polypoidal choroidal vasculopathy (PCV).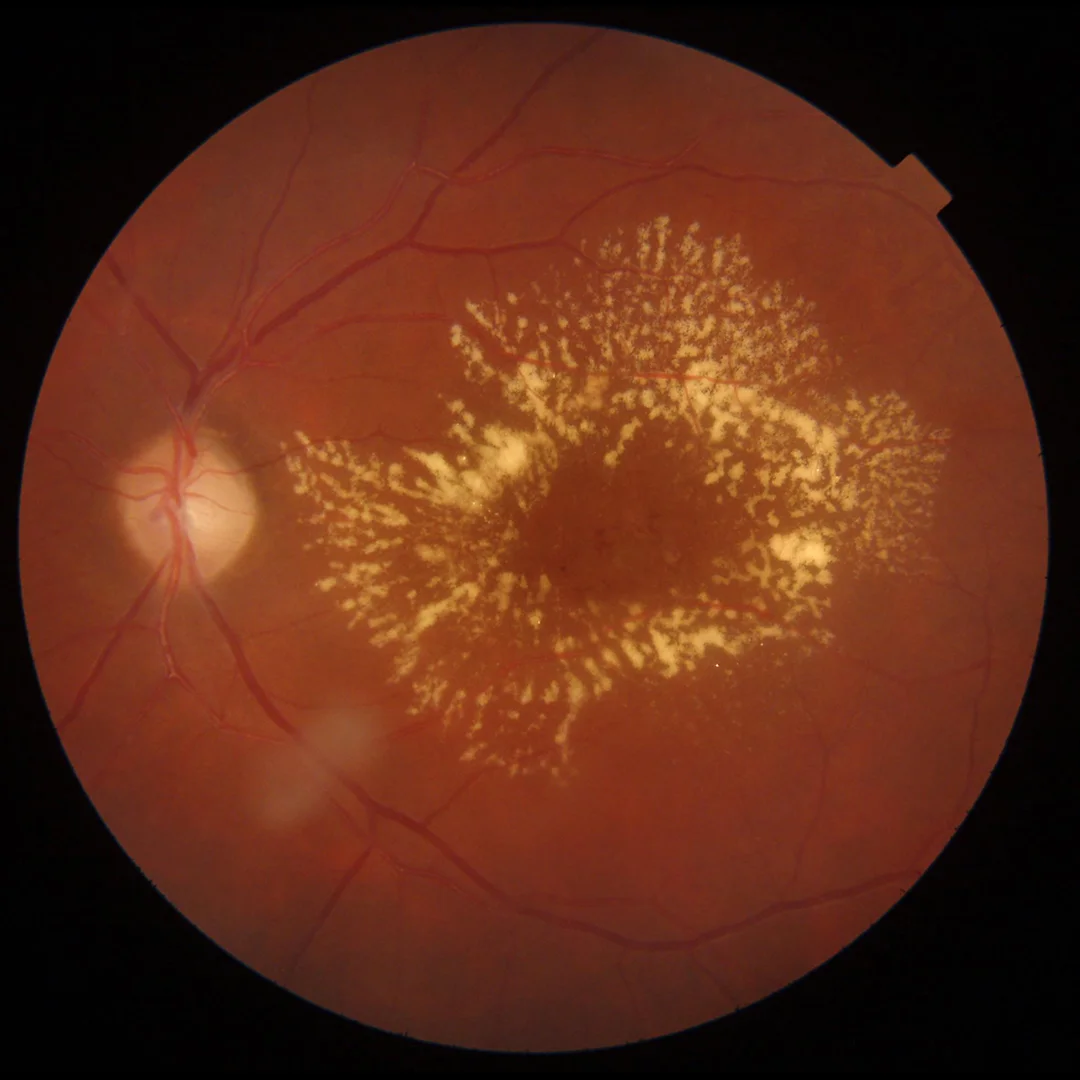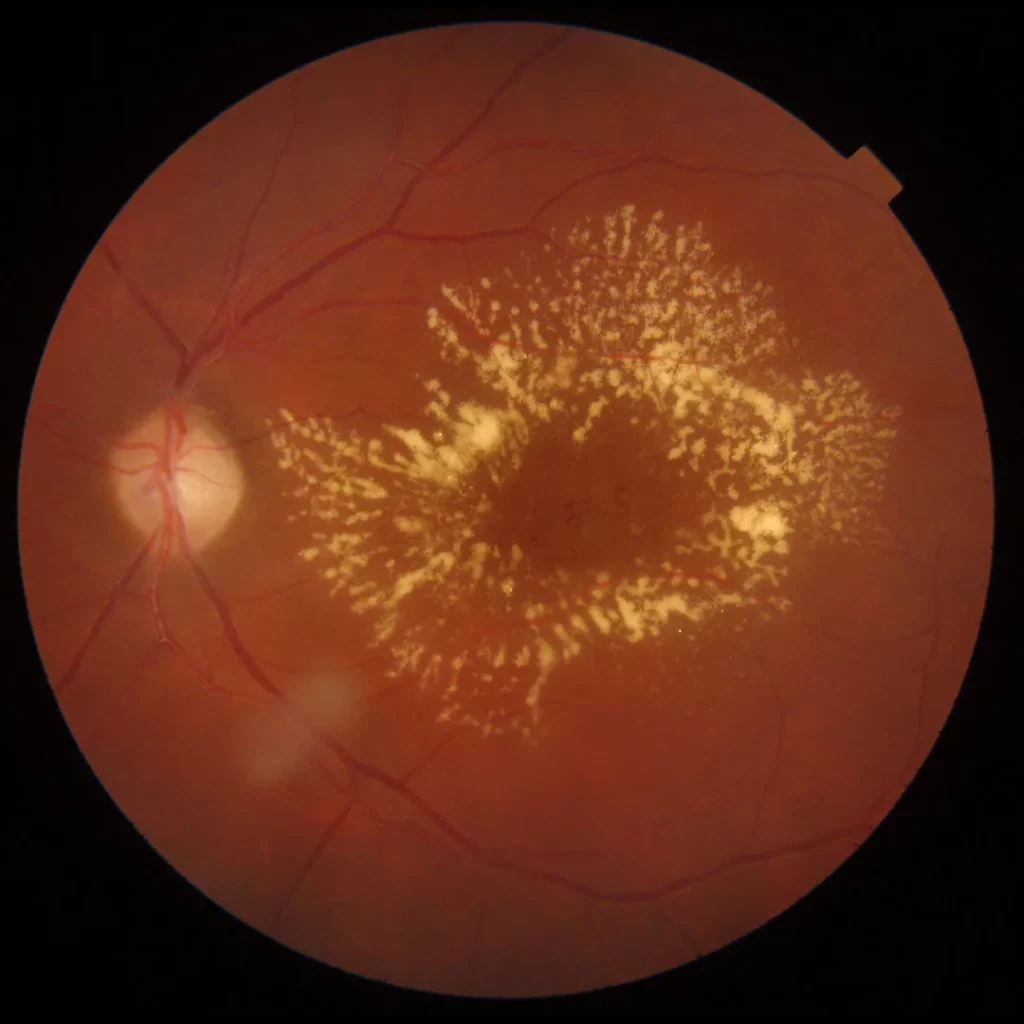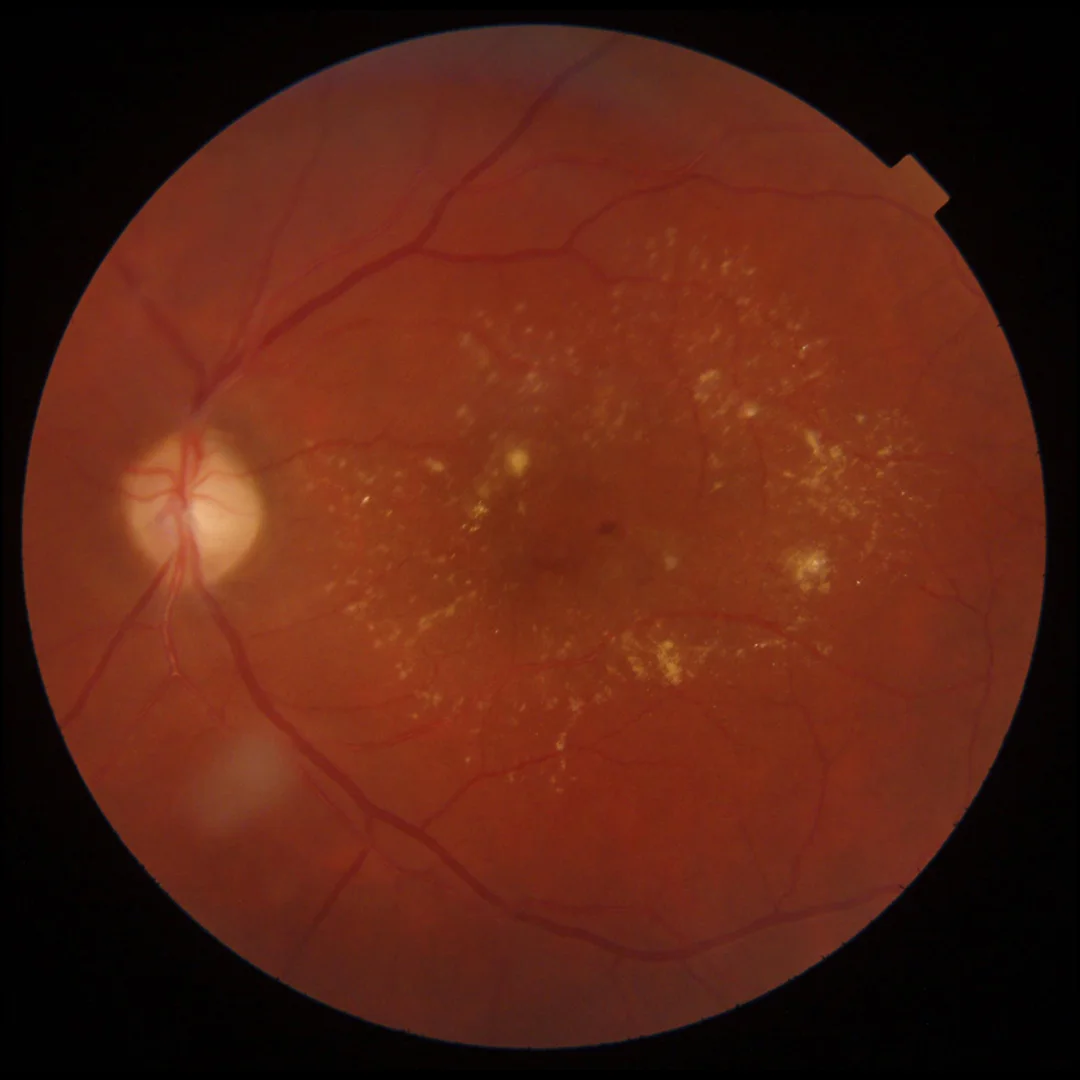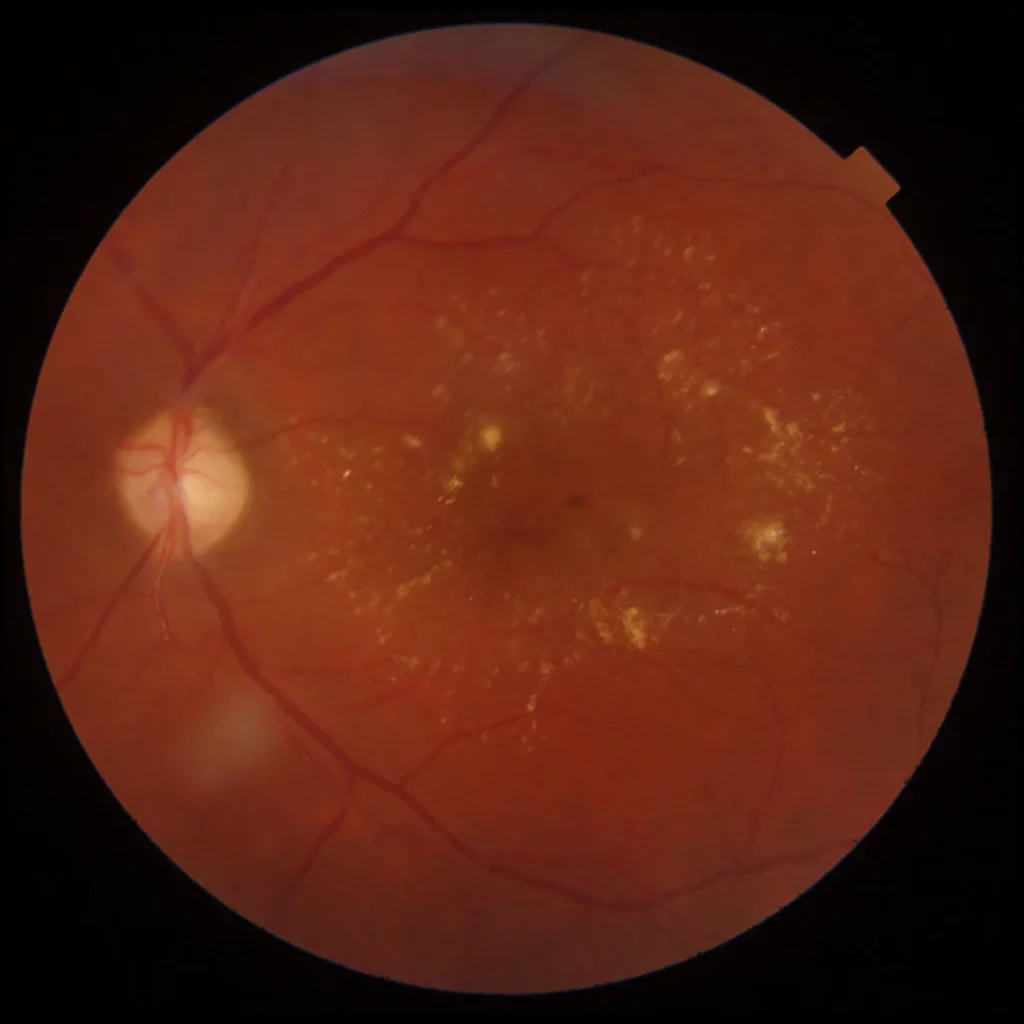 Macular telangiectasia Subliminal laser treatment
MacTel SubLiminal laser treatment:
51-year man, referred after long history of unsuccessful treatments (antivegf, steroids)
Subliminal panmacular treatment: 730 spots 160 mic 250 mW + 12 focal spots 120 mic 50 mW over the main vessel malformations.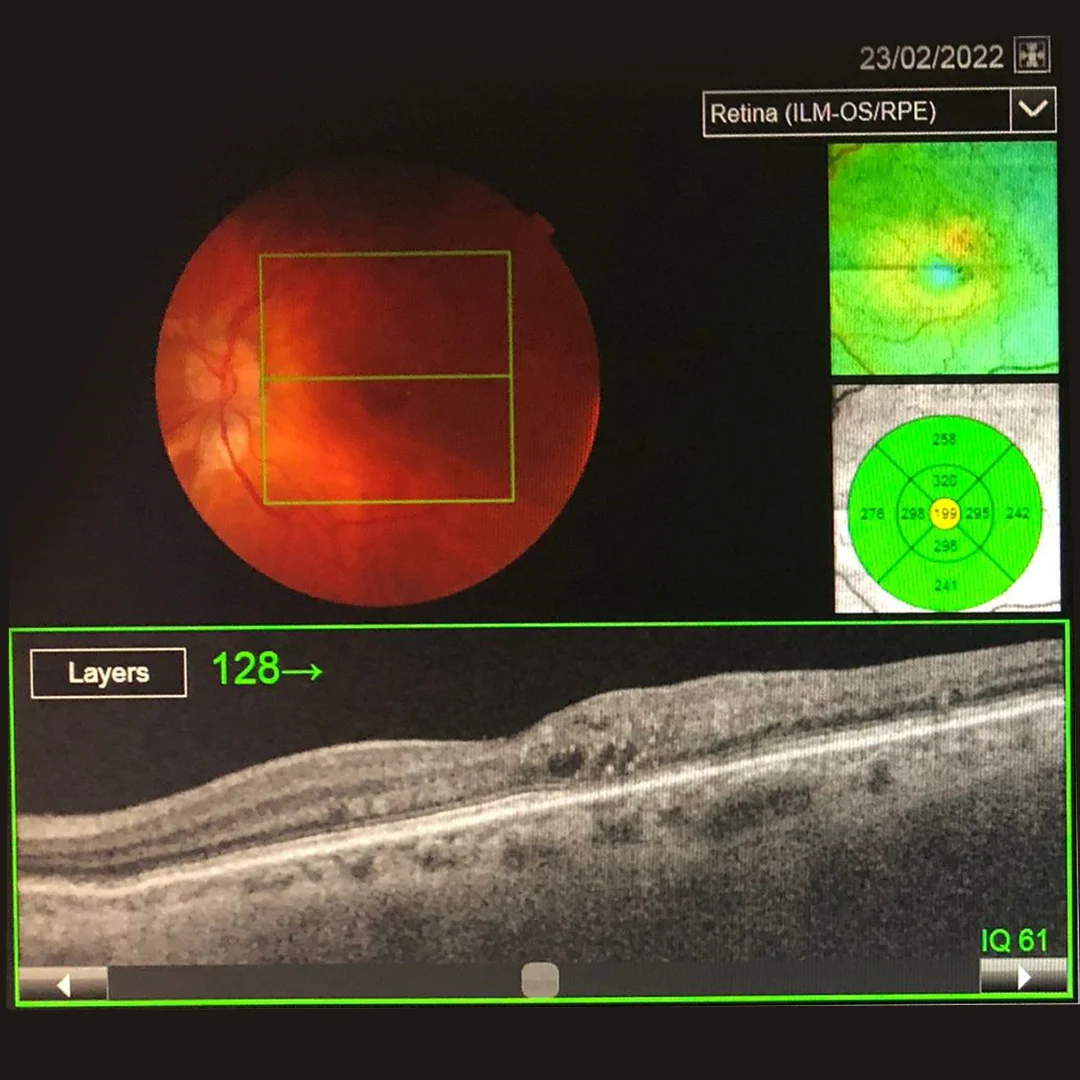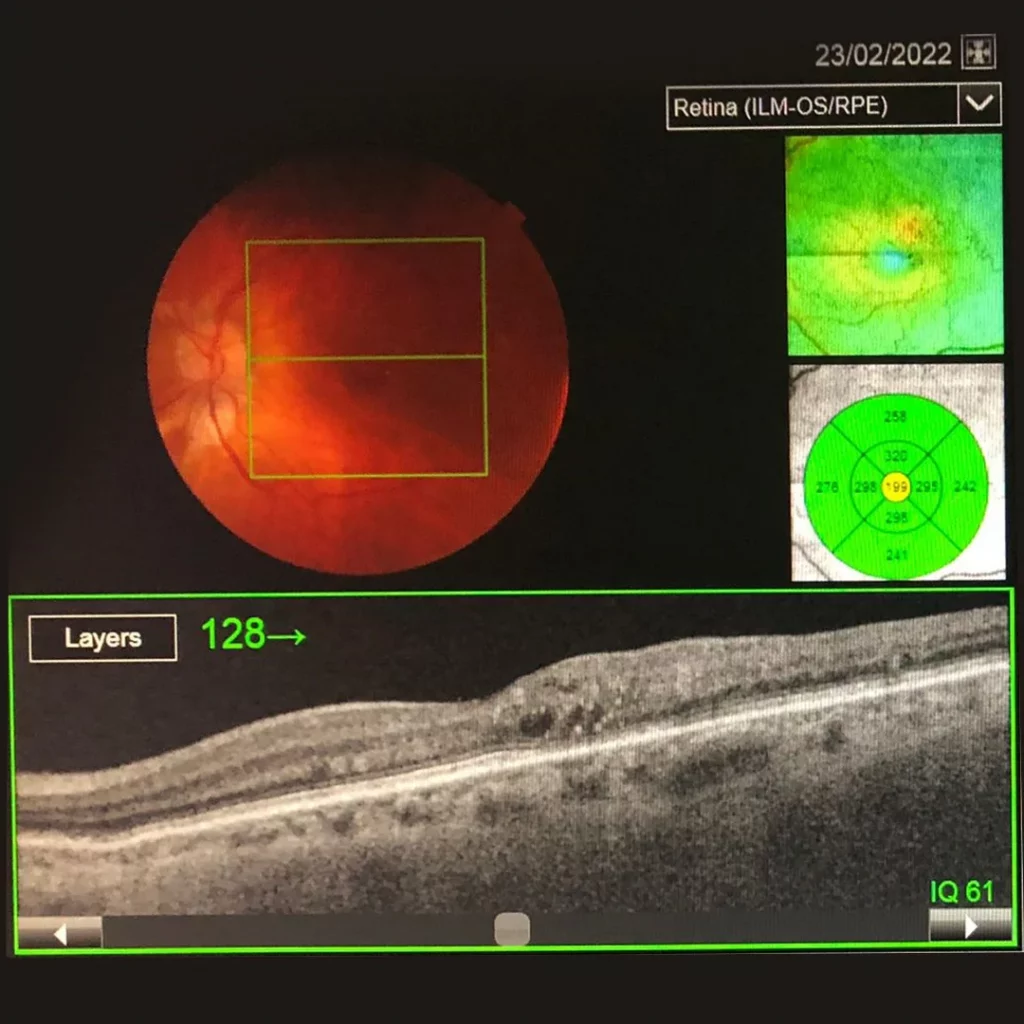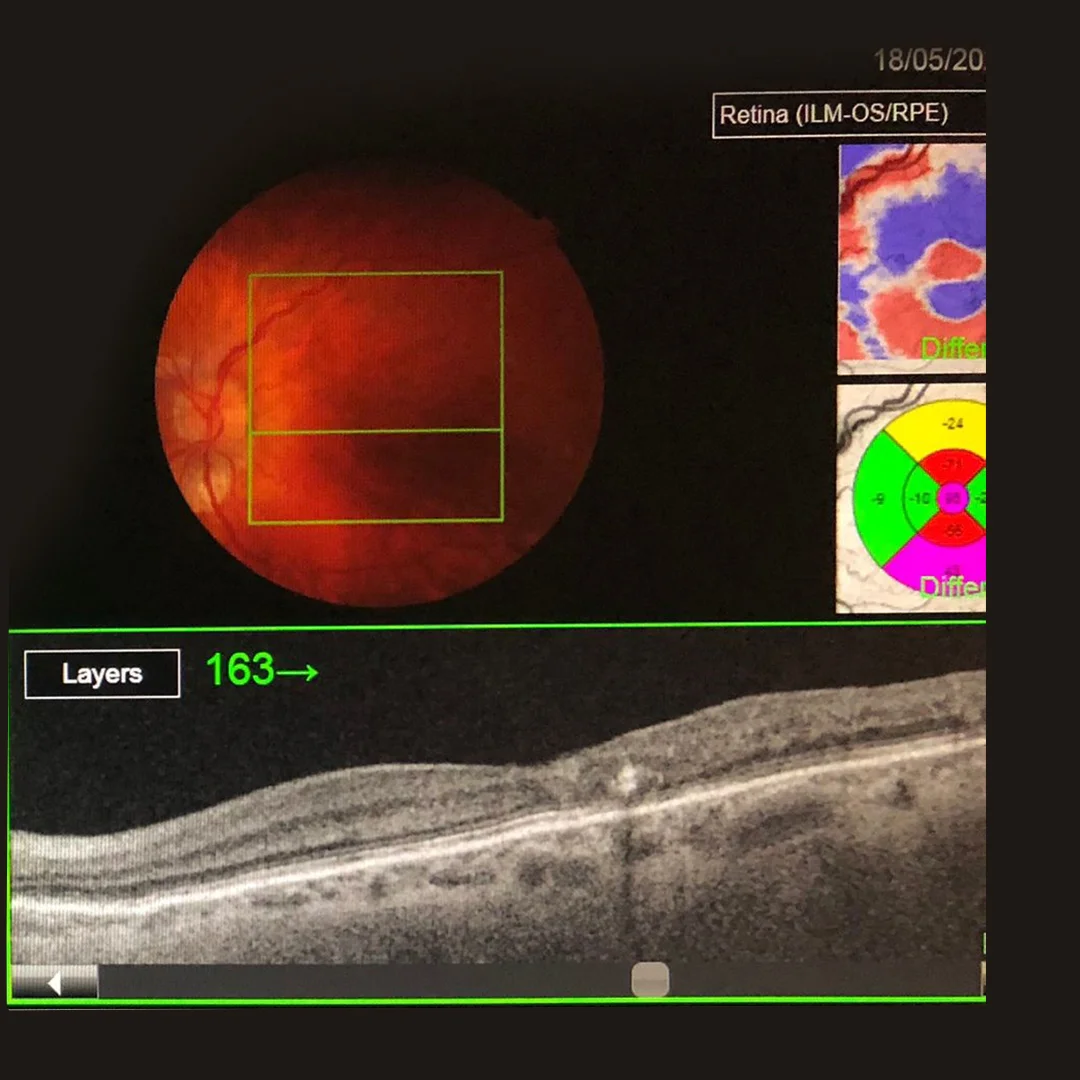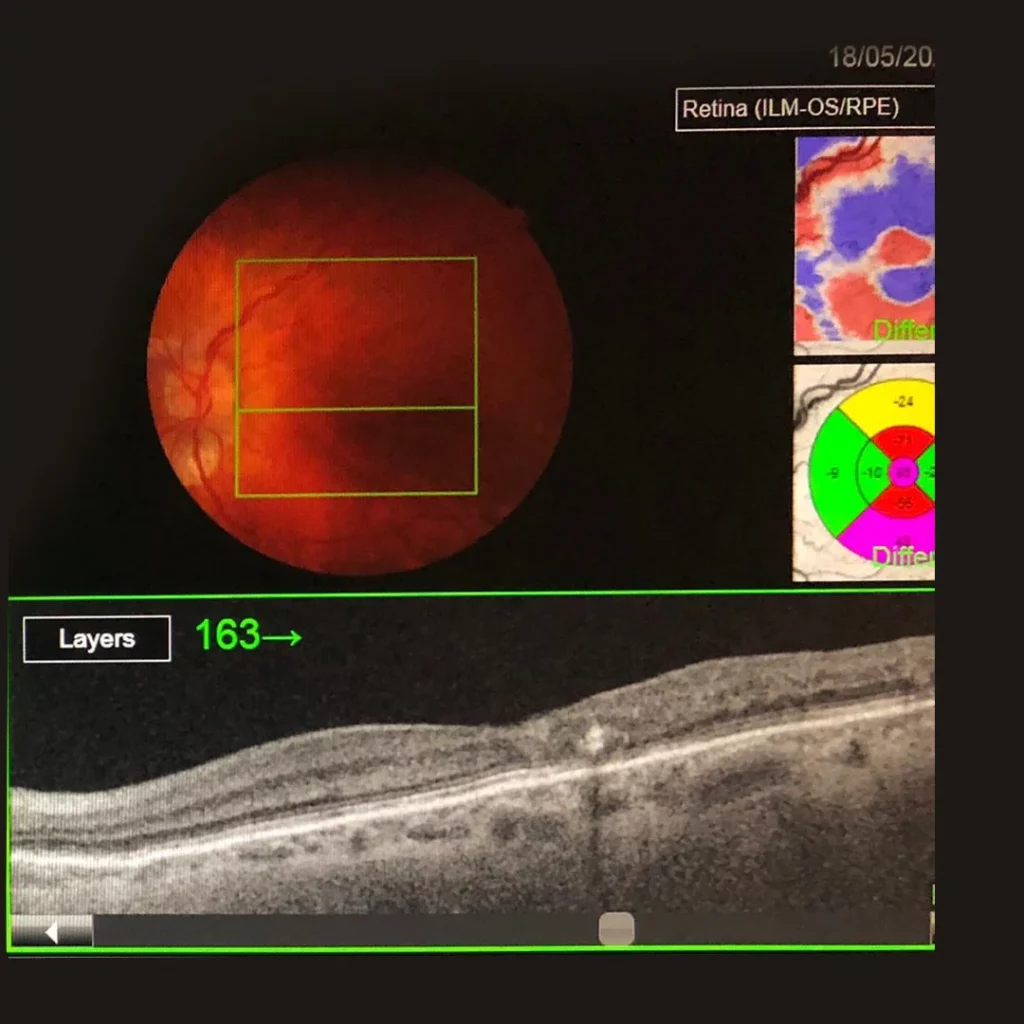 Diabetic Macular Edema with SubLiminal Laser Therapy
This is a 65-year-old patient diagnosed with MacTel 1 in his left eye.
Dr Alejandro Filloy Rius, Tarragona, Spain performed Subliminal laser treatment, 250 spots 160 mic 300 mW.
12 weeks after, without additional treatment, improvement is obvious.
VA remained stable at 20/25.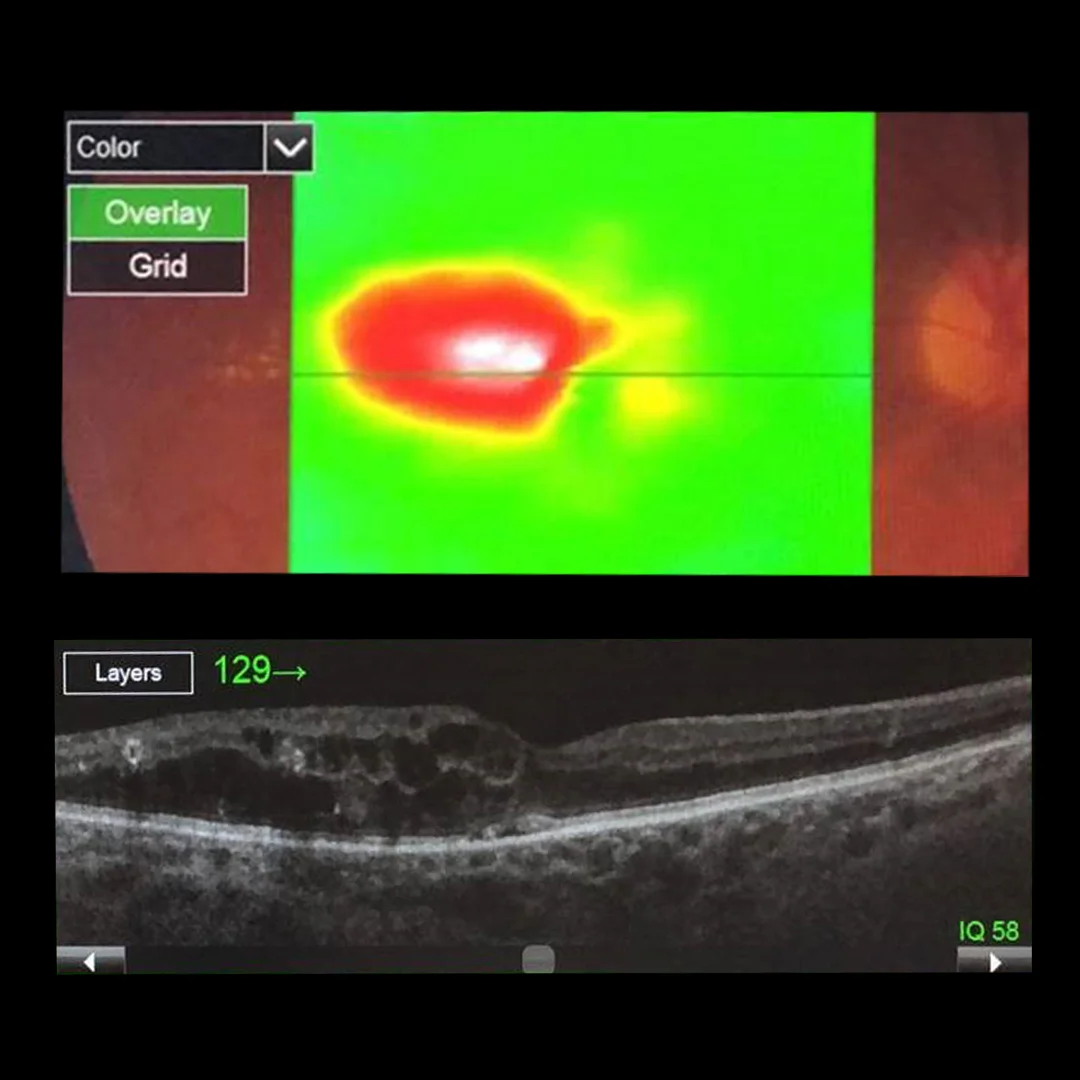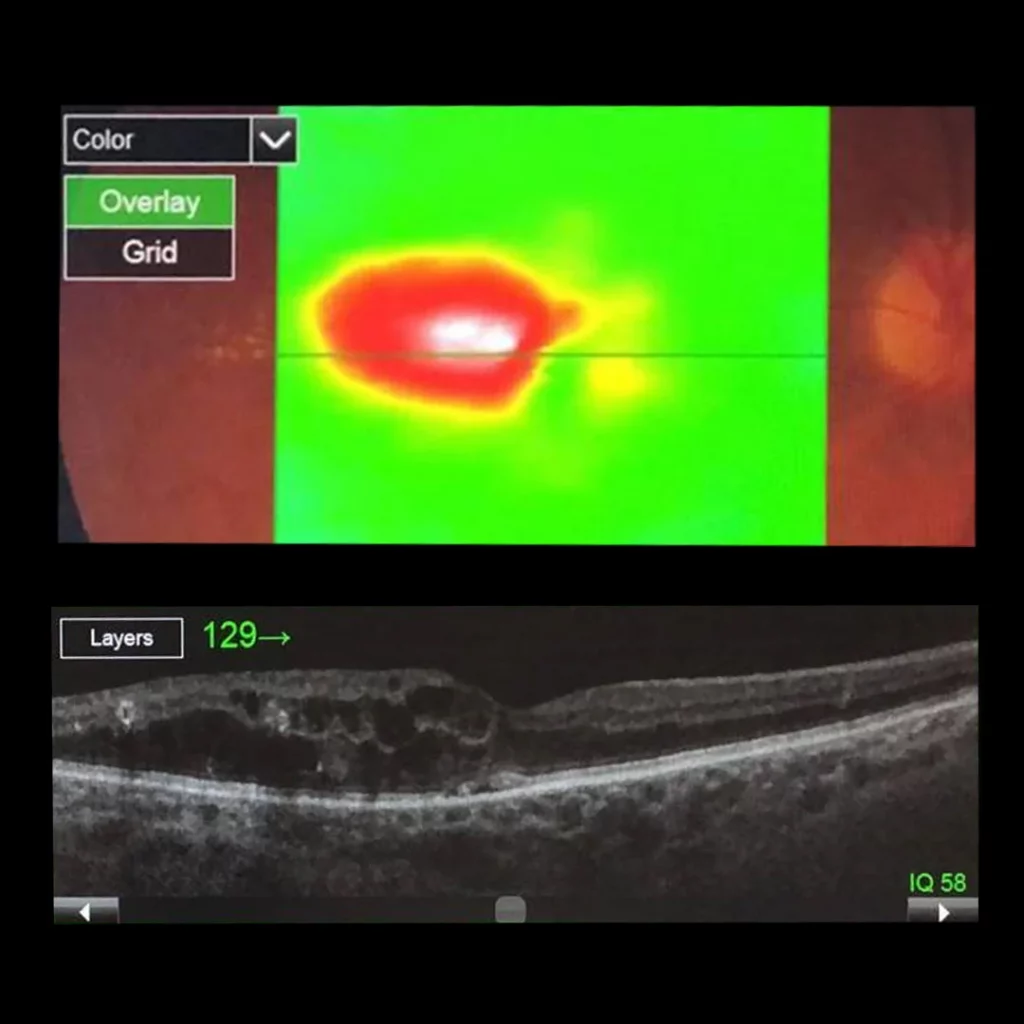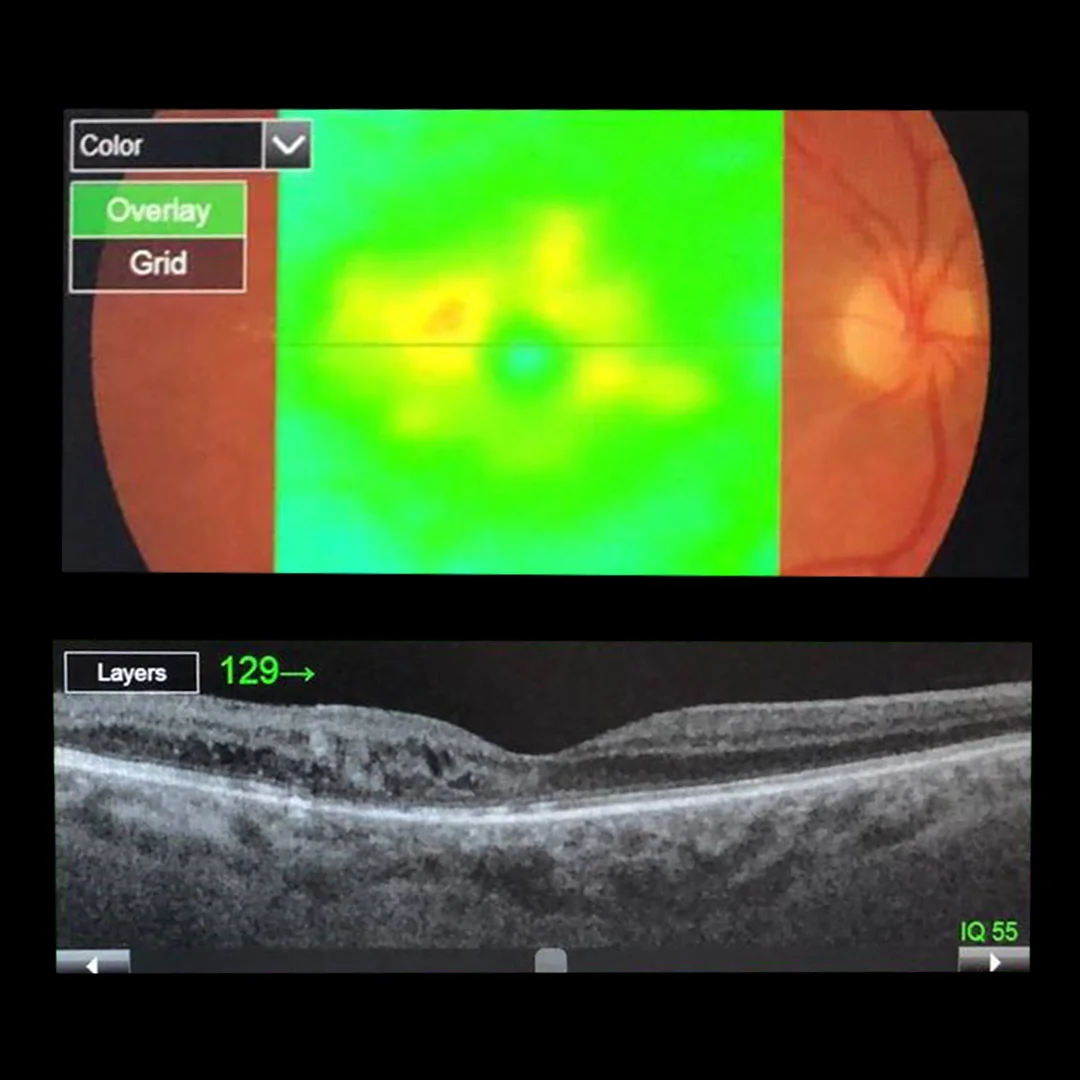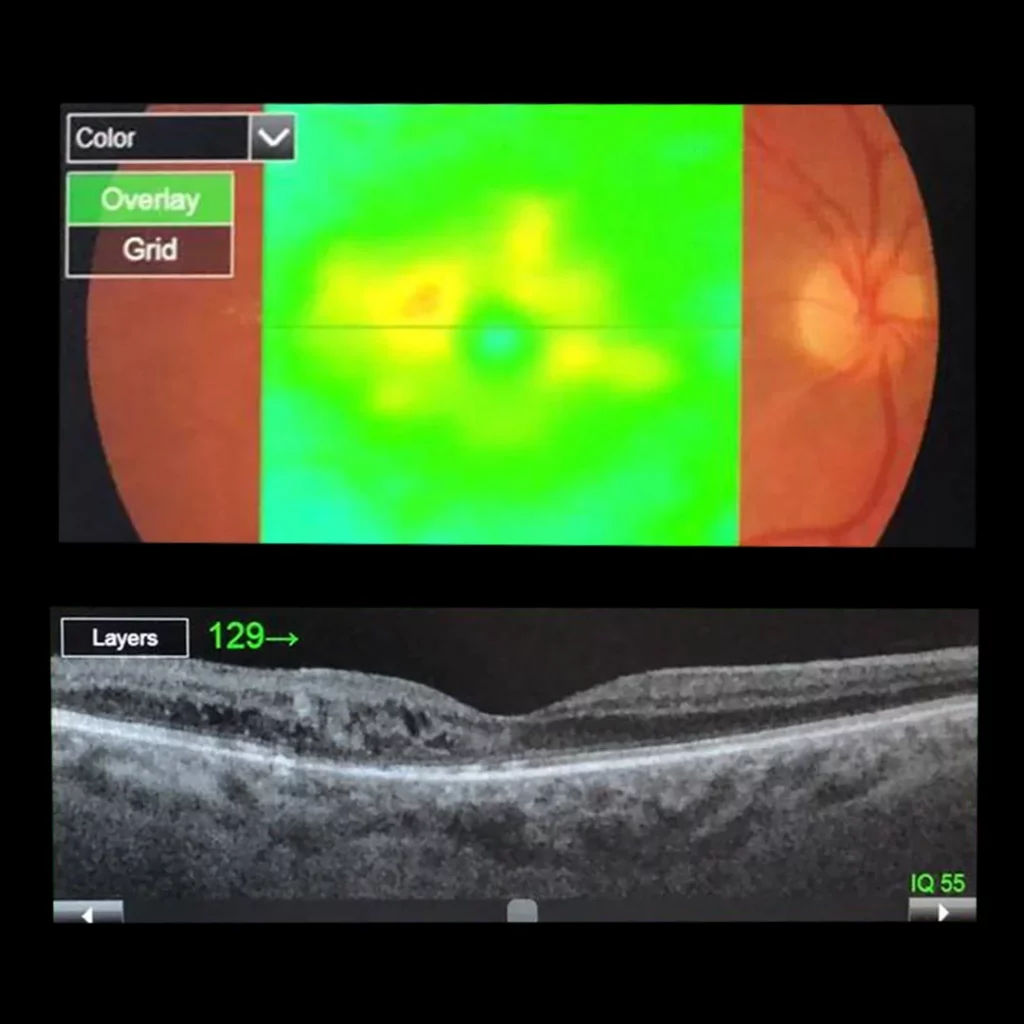 Combination of 577nm SubLiminal laser and 577nm focal laser
This is a 60 year-old diabetic patient who presents with VA 20/30.
He was treated with a combination of 577nm SubLiminal laser and 577nm Focal laser :
577 Subliminal laser: 550 laser spots (160µ / 0,2s / 400mW @ 5% DC) over the whole edematous area
and
577nm thermal treatment:8 focal spots (100 µ / 0,1s / 50 mW) directed at the largest aneurysms.
4 months after, improvement on OCT is obvious. VA 20/25 and laser invisible both in oct and autofluorescence.
Present patient cases treated with
Subliminal Laser Therapy
SubLiminal laser therapy is a method of delivering laser energy to the retina, producing a bio-stimulation effect, while minimizing permanent thermal damage to the retinal tissue.  The concept involves delivery of a "train" of laser pulses, each pulse separated by sufficient time to allow heat dissipation and reduce permanent damage to the retina. Unlike conventional macular laser treatment, there is no visible scarring on clinical examination, OCT or angiogram.
Refer below to the recommended SubLiminal laser treatment guidelines prepared by Victor Chong, MD (UK).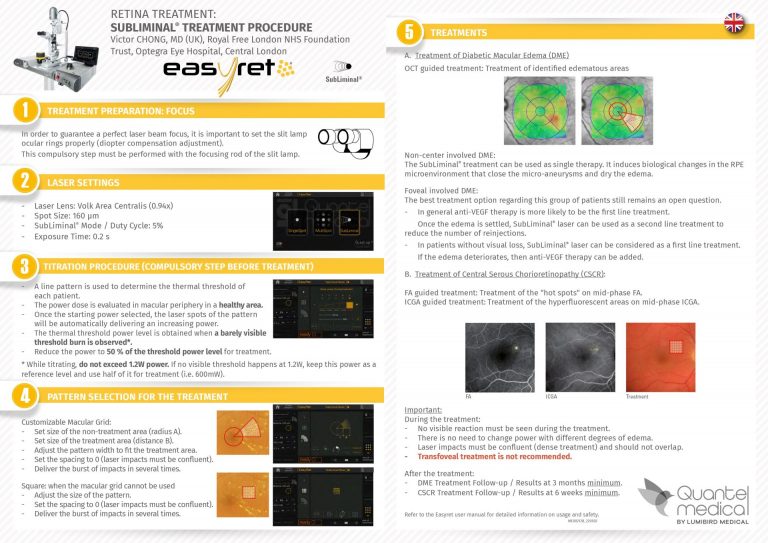 Retina Treatment: Subliminal Treatment Procedure
Retina Treatment: Subliminal Treatment Procedure by Victor CHONG, MD (UK), Royal Free London NHS Foundation Trust, Optegra Eye Hospital, Central London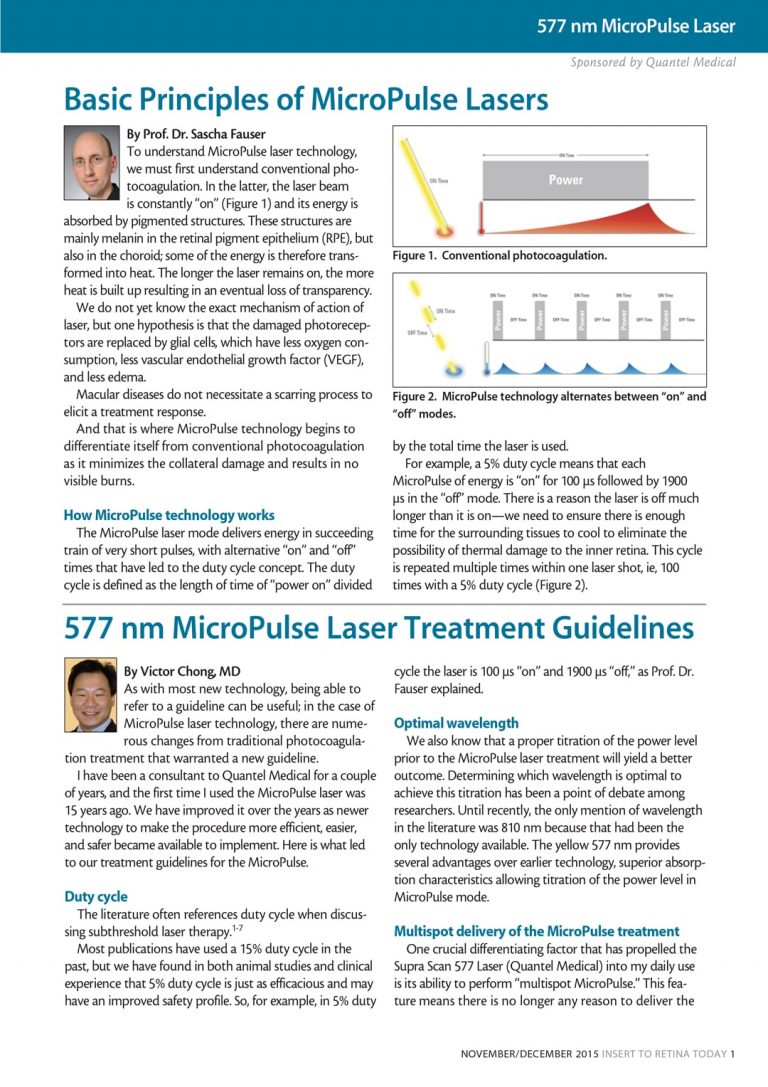 Basic Principles of MicroPulse Lasers
To understand MicroPulse laser technology, we must first understand conventional photocoagulation. In the latter, the laser beam is constantly "on" and its energy is absorbed by pigmented structures.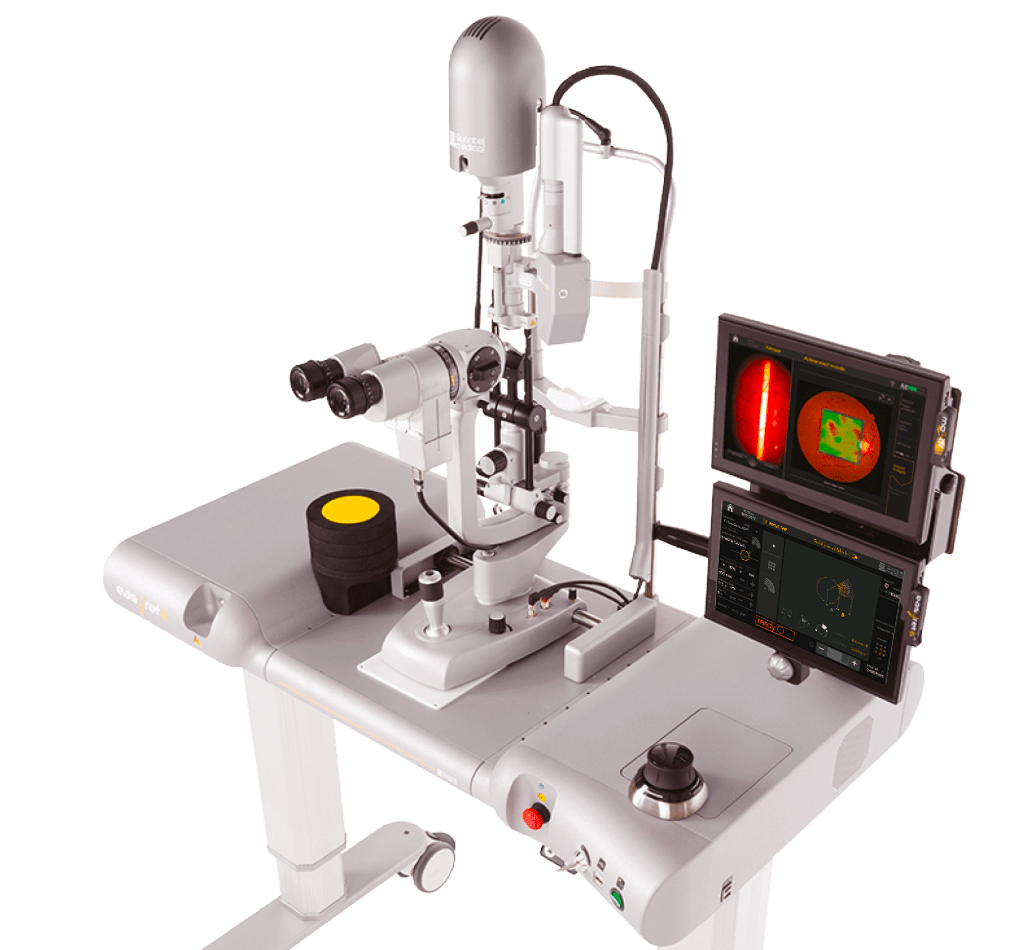 Central Serous Chorioretinopathy (CSC)
Central serous chorioretinopathy (CSC) is one of the most common retinal causes of vision loss. It is characterized by serous detachment of the neurosensory retina secondary to one or more focal lesions of the retinal pigment epithelium (RPE)1. This pathology ranks among the most common vision-threatening retinopathies after AMD, diabetic retinopathy and branch retinal vein occlusion2.
In acute CSC, the detachment is caused by a focal leak in the RPE. It usually resolves spontaneously within a few weeks3. However, chronic CSC can lead to permanent structural damage and often pronounced loss of central vision456.
Different treatment options are available, but there is no "gold standard" treatment for chronic CSC7:
Traditional thermal photocoagulation can be used for extrafoveal leakages, but it is destructive and can lead to symptomatic scotomas and choroidal neovascularization.
PDT laser therapy can also be used, however, even when using reduced treatment settings; it has also number of side effects such as RPE atrophy, choroidal neovascularization, choriocapillaris ischemia, and transient reduction of macular function.
Yellow 577nm SubLiminal® laser therapy seems to be a promising alternative treatment strategy8.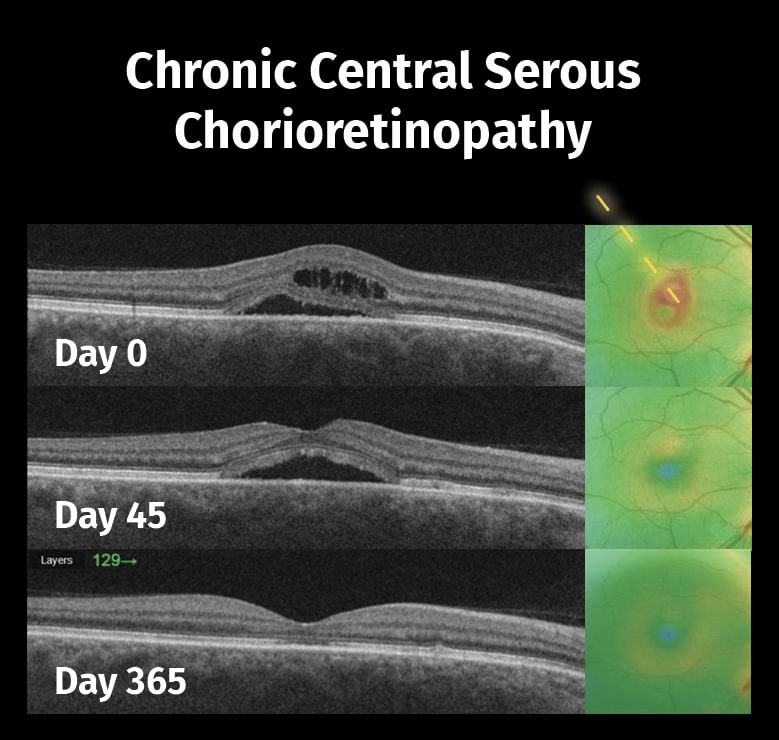 Images courtesy of Alejandro Filloy Rius, MD. Ph.D
Tarragona, Spain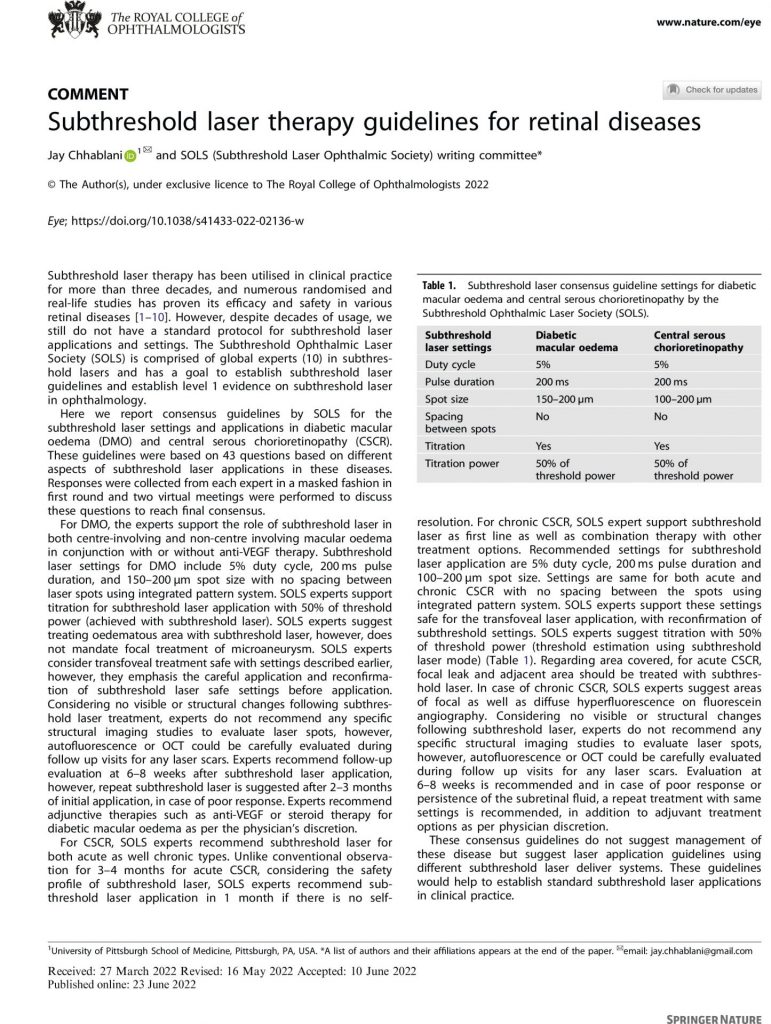 Subthreshold laser therapy guidelines for retinal diseases
Subthreshold laser therapy has been utilised in clinical practice for more than three decades, and numerous randomised and real-life studies has proven its efficacy and safety in various retinal diseases. However, despite decades of usage, we still do not have a standard protocol for subthreshold laser applications and settings.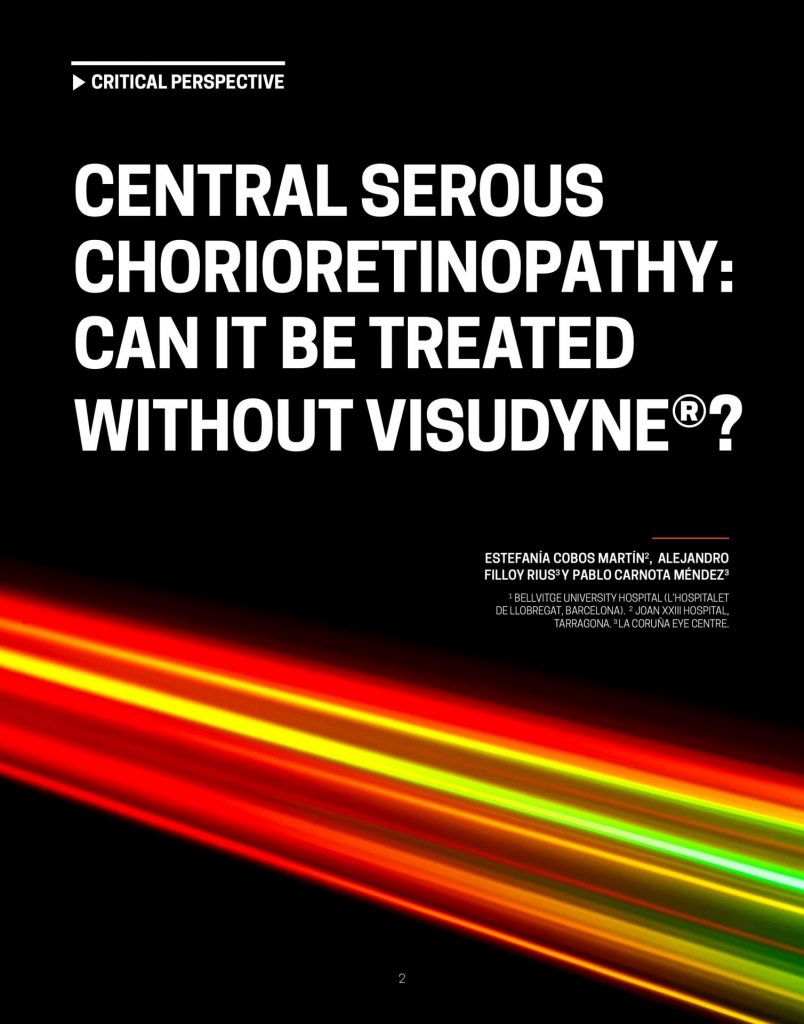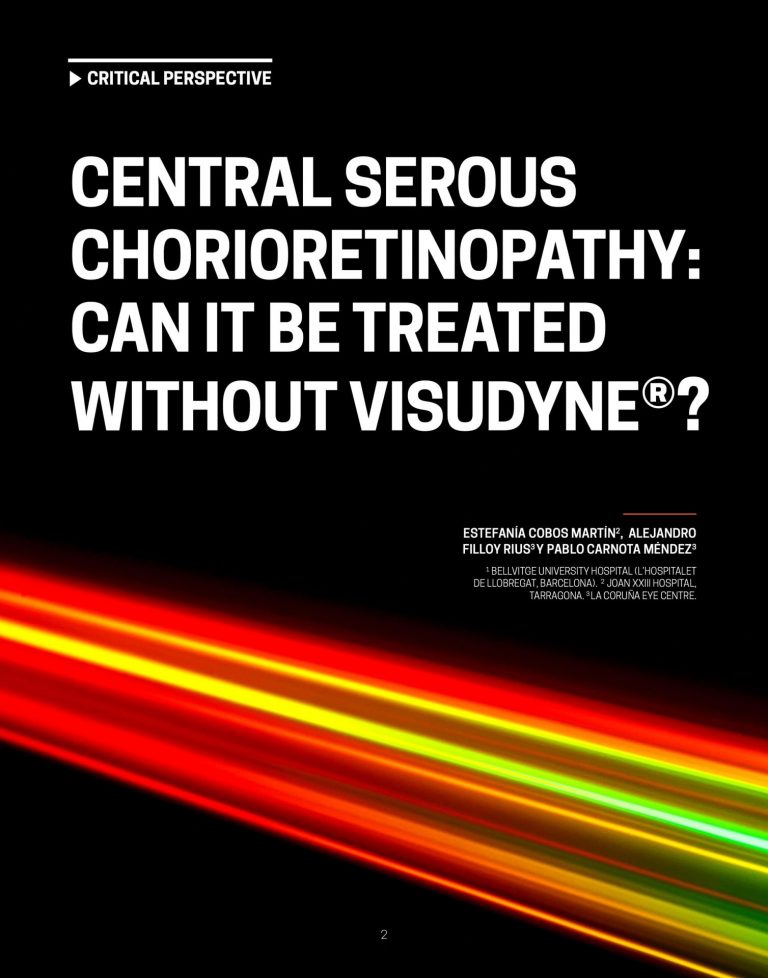 Central Serous Chorioretinopathy: Can it be treated without Visudyne?
Given the difficulty of obtaining verteporfin for chronic CSCR, it is worth considering subthreshold laser therapy as an alternative given its comparable efficacy and practical advantages. We know that the prognosis for this disease depends on the level of disease progression, so a therapeutic option that allows for an undelayed treatment is extremely interesting.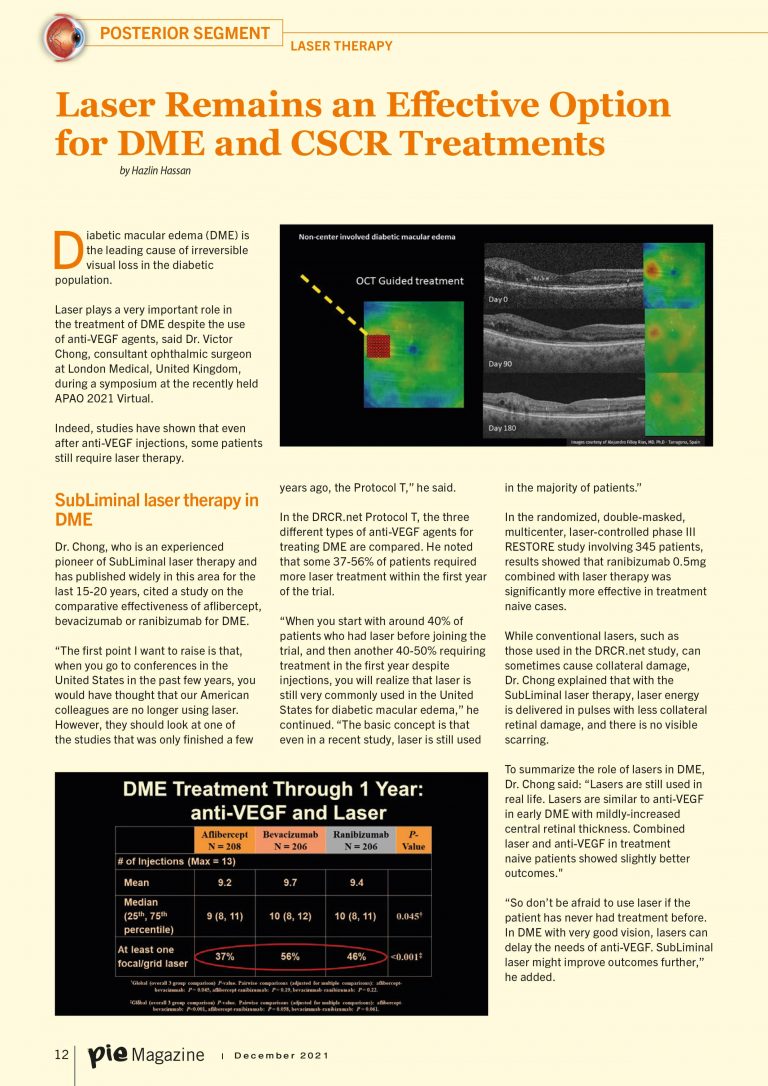 Laser Remains an Effective Option for DME and CSCR Treatments
Diabetic macular edema (DME) is the leading cause of irreversible visual loss in the diabetic population. Laser plays a very important role in the treatment of DME despite the use of anti-VEGF agents, said Dr. Victor Chong, consultant ophthalmic surgeon at London Medical, United Kingdom, during a symposium at the recently held APAO 2021 Virtual.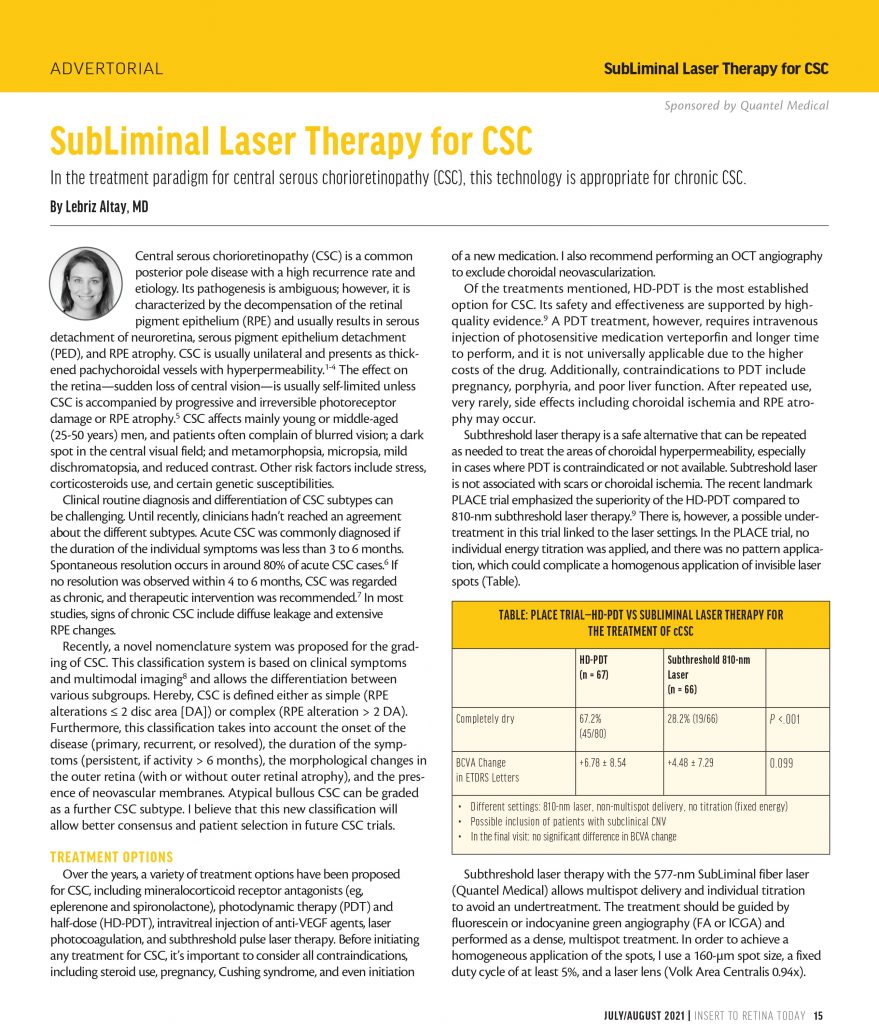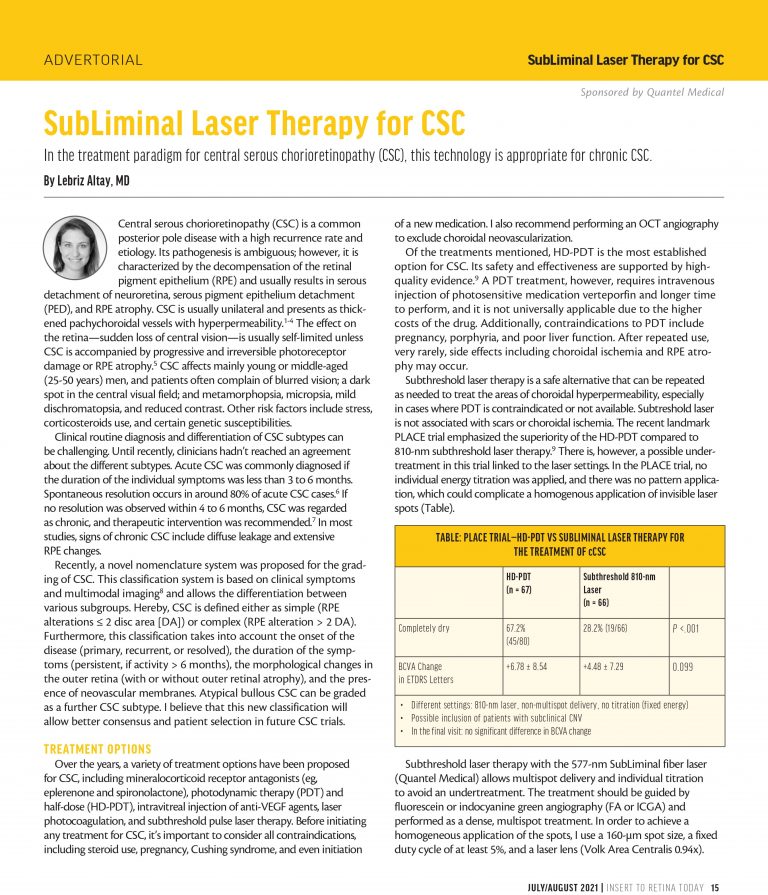 SubLiminal Laser Therapy for CSC
Central serous chorioretinopathy (CSC) is a common posterior pole disease with a high recurrence rate and etiology. Its pathogenesis is ambiguous; however, it is characterized by the decompensation of the retinal pigment epithelium (RPE) and usually results in serous detachment of neuroretina, serous pigment epithelium detachment (PED), and RPE atrophy.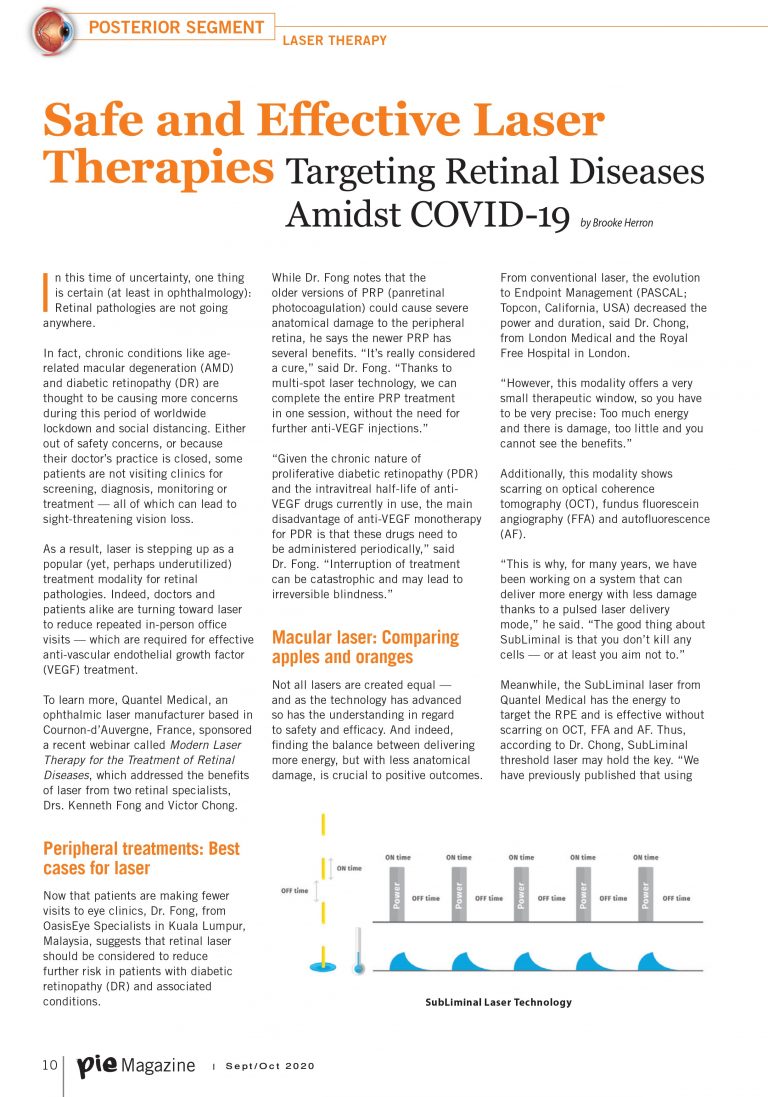 Safe and Effective Laser Therapies: Targeting Retinal Diseases Amidst COVID-19
In this time of uncertainty, one thing is certain (at least in ophthalmology): Retinal pathologies are not going anywhere. In fact, chronic conditions like age-related macular degeneration (AMD) and diabetic retinopathy (DR) are thought to be causing more concerns during this period of worldwide lockdown and social distancing.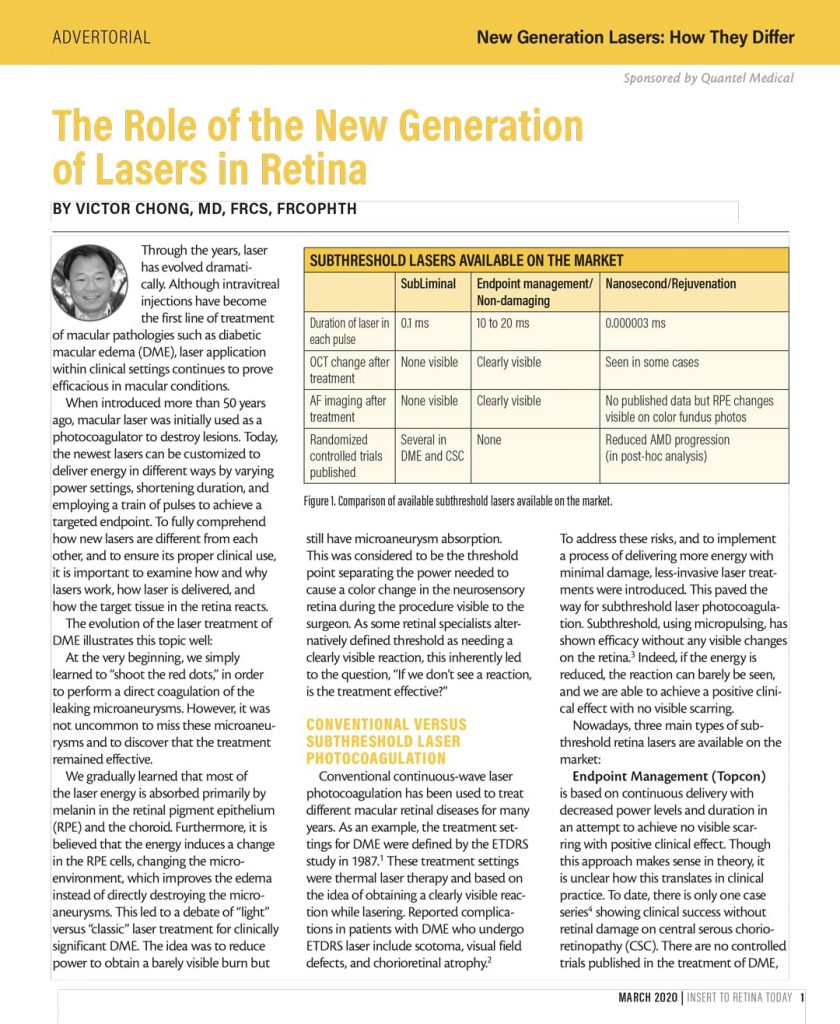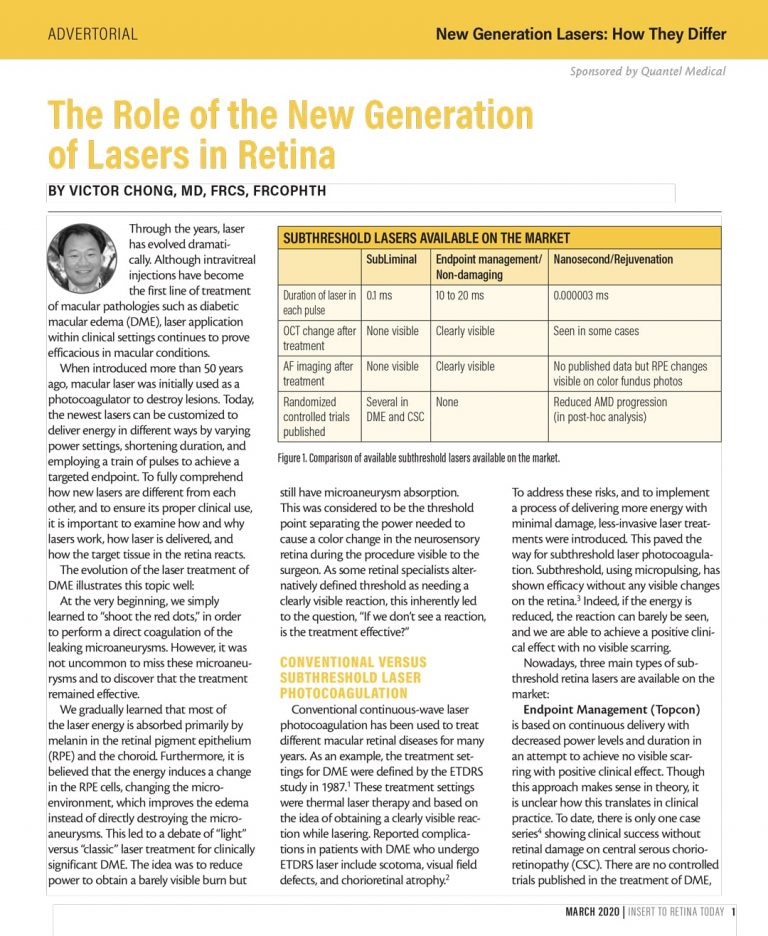 The Role of the New Generation of Lasers in Retina
Through the years, laser has evolved dramatically. Although intravitreal injections have become the first line of treatment of macular pathologies such as diabetic macular edema (DME), laser application within clinical settings continues to prove efficacious in macular conditions.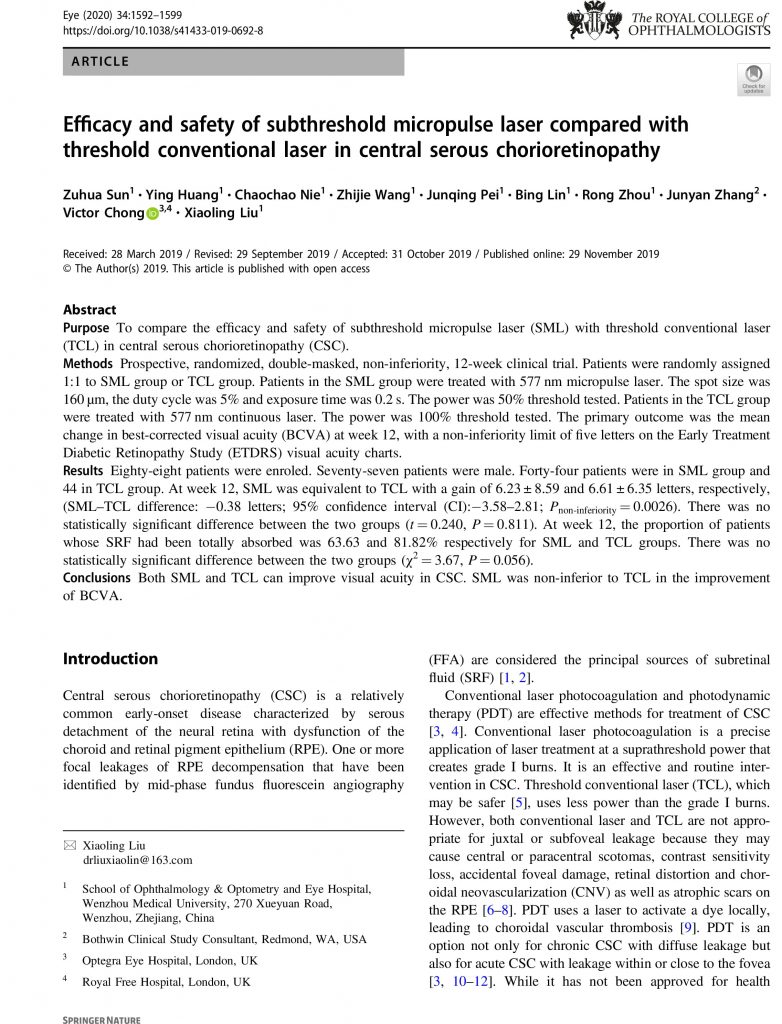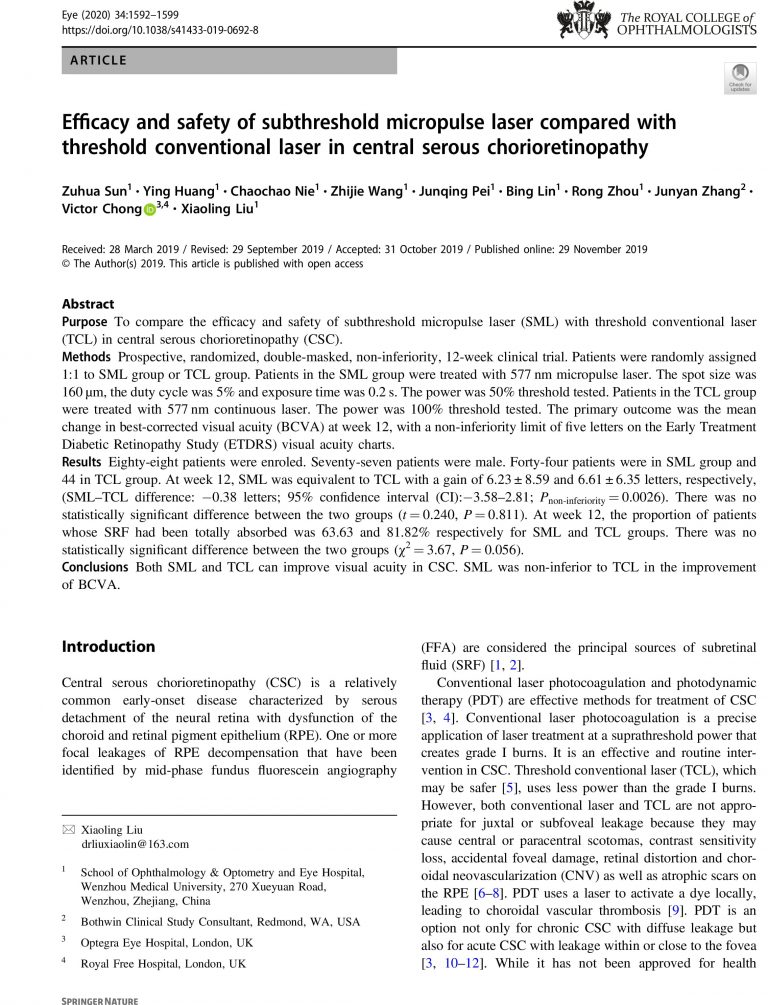 Efficacy and safety of subthreshold micropulse laser compared with threshold conventional laser in CSC
To compare the efficacy and safety of subthreshold micropulse laser (SML) with threshold conventional laser (TCL) in central serous chorioretinopathy (CSC).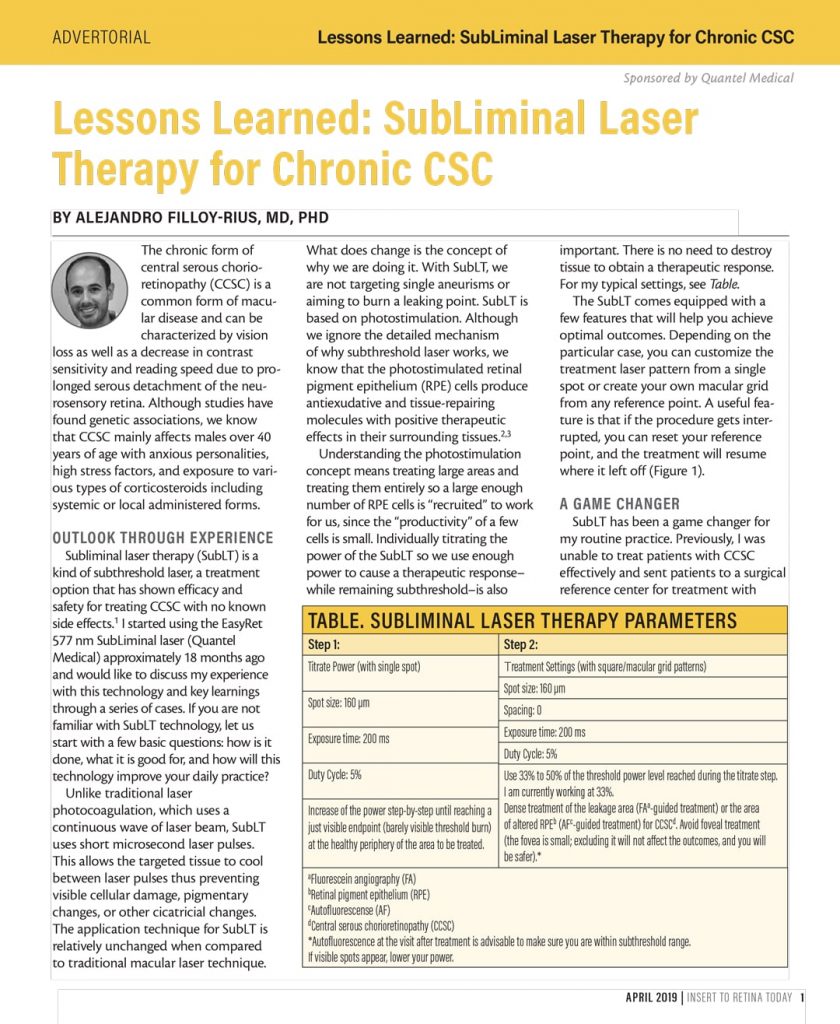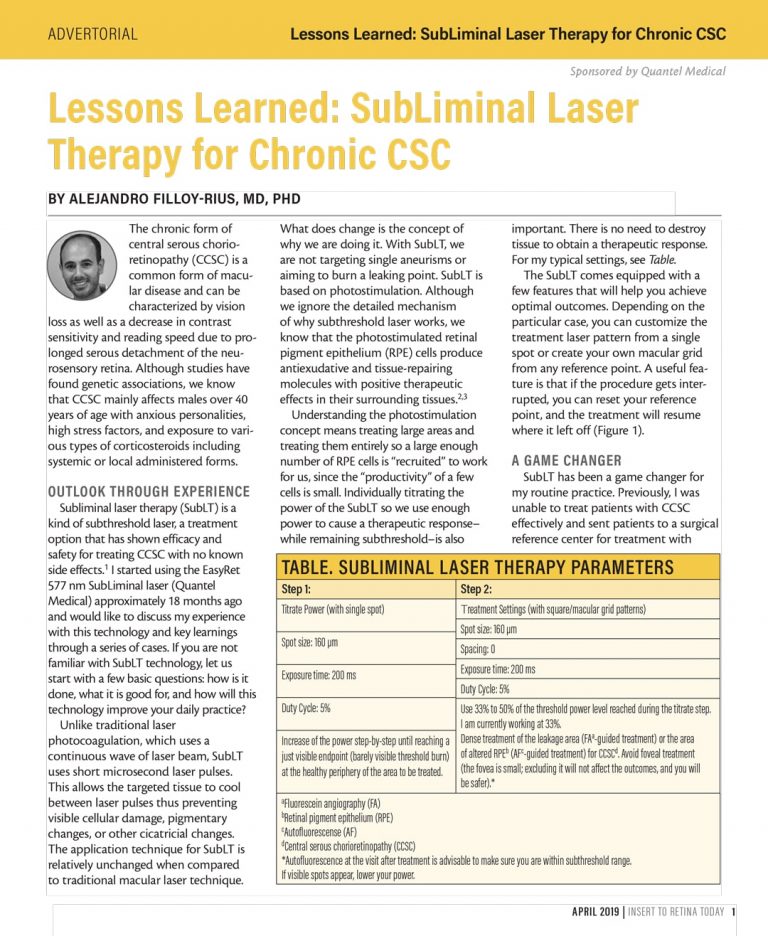 Lessons Learned: SubLiminal Laser Therapy for Chronic CSC
The chronic form of central serous chorioretinopathy (CCSC) is a common form of macular disease and can be characterized by vision loss as well as a decrease in contrast sensitivity and reading speed due to prolonged serous detachment of the neurosensory retina.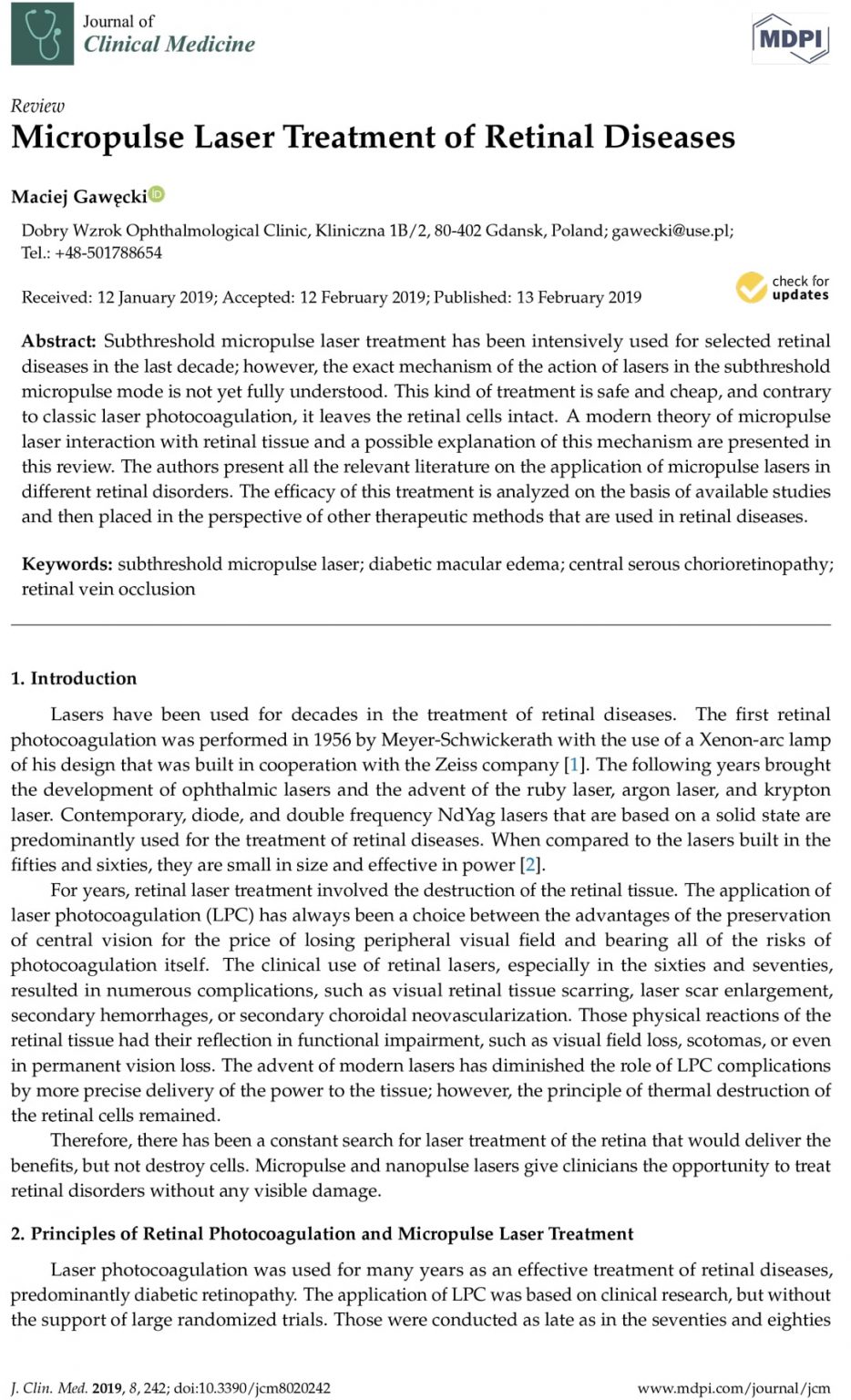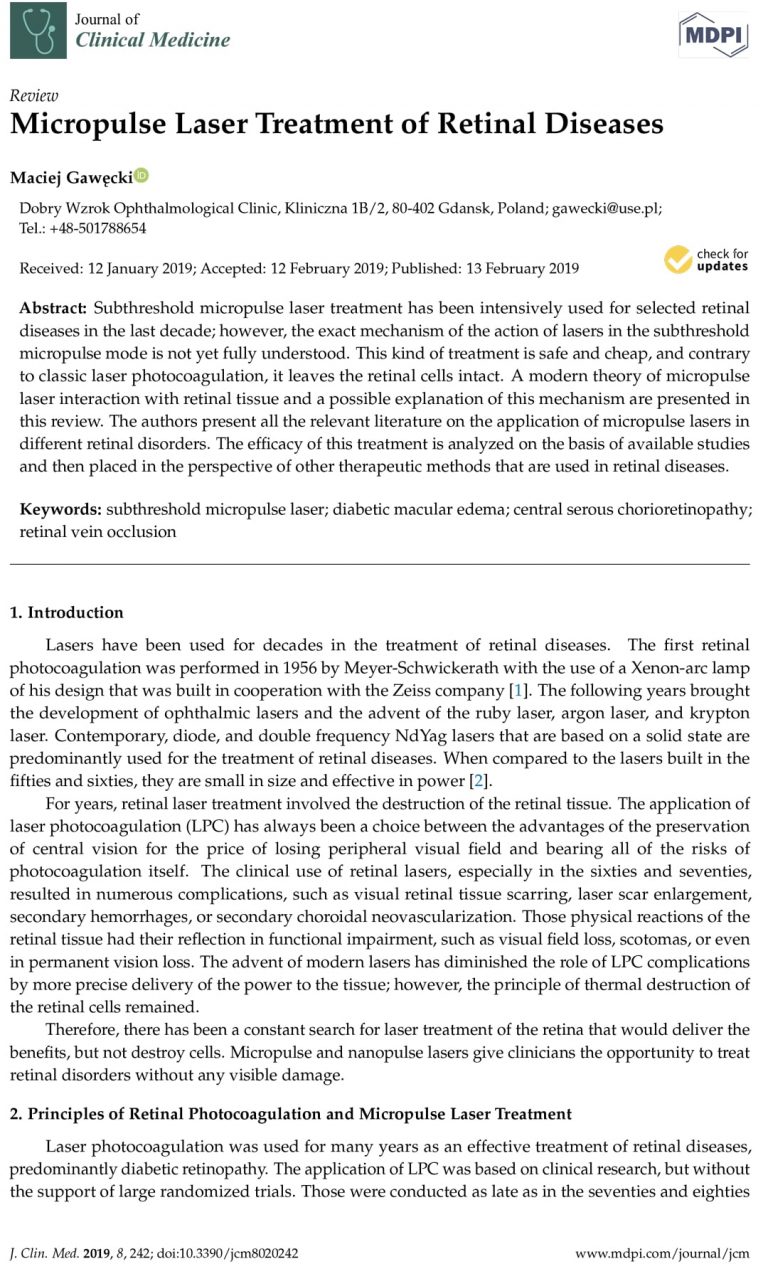 Micropulse Laser Treatment of Retinal Diseases
Subthreshold micropulse laser treatment has been intensively used for selected retinal diseases in the last decade; however, the exact mechanism of the action of lasers in the subthreshold micropulse mode is not yet fully understood.
Talk about
SubliminalLaser Therapy
In the CSCR PACORES study, both the half-dose PDT and the yellow SubLiminal laser were effective in restoring the macular anatomy in eyes with chronic CSCR. It appears, though, that yellow SubLiminal laser had a more beneficial effect in visual acuity than half-dose PDT.
What we know today about SubLiminal laser therapy encourages us to move away from using conventional laser for macular treatment. In my experience, SubLiminal laser treatment is best suited for CSR, non-central DME, and as an adjunct for center involved DME.
The use of SubLiminal laser therapy is a safe alternative for the treatment of chronic CSC. It that can be repeated as needed to treat the areas of choroidal hyperpermeability, especially in cases where PDT is contraindicated or not available.
I have been using the Easyret 577nm SubLiminal laser for over 4 years, and it has been an exciting journey. SubLiminal laser therapy is an advanced subthreshold technology and an excellent therapeutic tool to treat DME patients and decrease the burden of monthly visits and costly injections.
DME is a huge burden to our health care system. In the part of the world where I practice, it is not feasible to do monthly anti-VEGF injections for our patients. The SubLiminal laser therapy is a safe and effective option. It can reduce the treatment burden of injections, and now that we have the latest machines with upgraded software combining Multispot and SubLiminal technologies all in one, we are experiencing a very exciting era in retinal laser therapy.
Learn more about treatments