Terapia laserowa podprogowa to leczenie plamki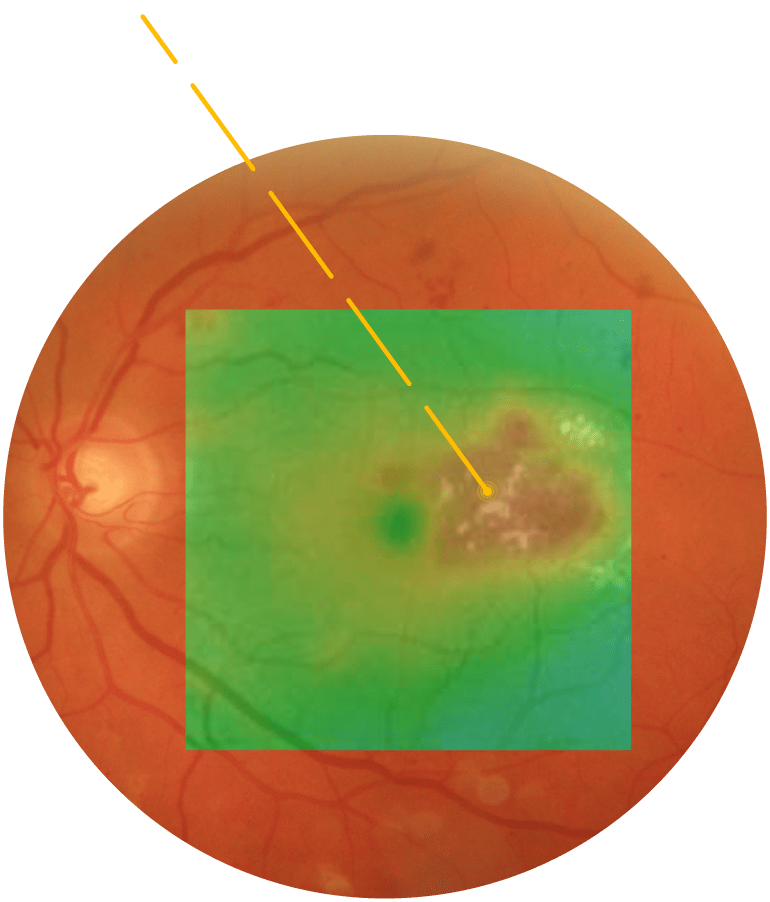 Terapia laserowa SubLiminal jest obecnie techniką najczęściej stosowana w przypadkach chorób naczyń krwionośnych siatkówki i chorób przebiegających z obrzękiem plamki żółtej, takich jak cukrzycowy obrzęk plamki żółtej (DME) i centralna surowicza chorioretinopatia (CSR). Może też mieć zastosowanie w innych patologiach plamki żółtej, takich jak obrzęk plamki żółtej w przebiegu zakrzepu gałązki żyły środkowej siatkówki (BRVO) i polipoidalnej waskulopatii naczyniówkowej (PCV).
Wytyczne dotyczące leczenia
Leczenie laserowe techniką SubLiminal jest metodą dostarczania energii laserowej do siatkówki i uzyskania biostymulacji przy minimalnym trwałym uszkodzeniu cieplnym tkanki siatkówki. Metoda ta polega na dostarczeniu szeregu impulsów w odstępie czasu wystarczającym do rozproszenia ciepła, tak aby zapobiec trwałemu uszkodzeniu siatkówki. W odróżnieniu od konwencjonalnej terapii laserowej plamki żółtej nie powstaje bliznowacenie, które można byłoby wykryć w badaniu klinicznym OCT lub angiogramie. Poniżej znajdują się wytyczne dotyczące laseroterapii SubLiminal, przygotowane przez dr. Victora Chonga (UK).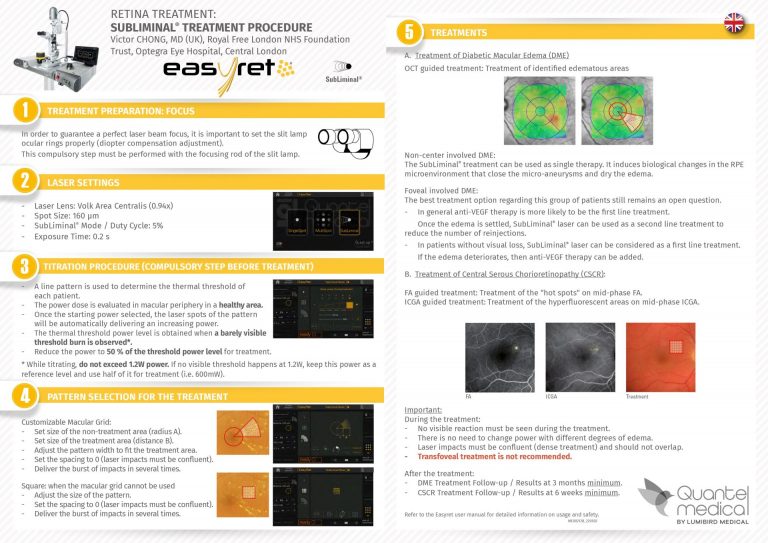 Retina Treatment: Subliminal Treatment Procedure
Retina Treatment: Subliminal Treatment Procedure by Victor CHONG, MD (UK), Royal Free London NHS Foundation Trust, Optegra Eye Hospital, Central London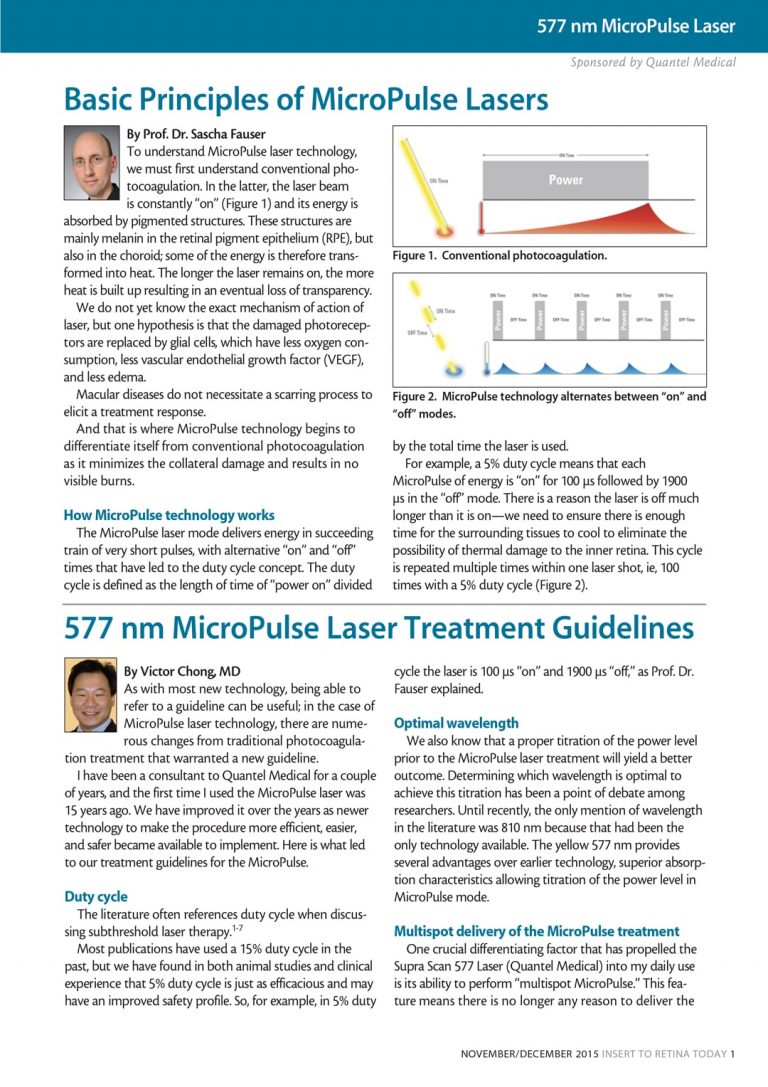 Basic Principles of MicroPulse Lasers
To understand MicroPulse laser technology, we must first understand conventional photocoagulation. In the latter, the laser beam is constantly "on" and its energy is absorbed by pigmented structures.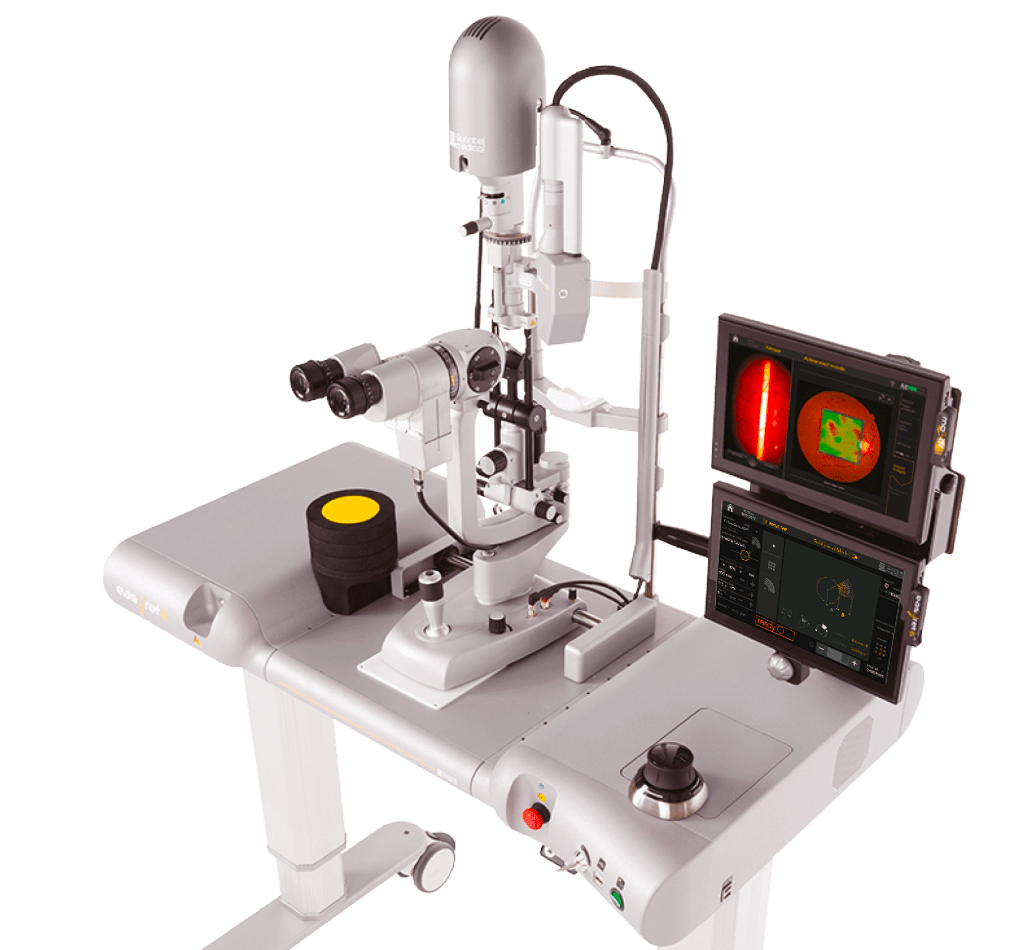 Centralna chorioretinopatia surowicza (CSC)
Centralna chorioretinopatia surowicza (CSC) jest jedną z najczęstszych przyczyn utraty wzroku na tle zaburzenia siatkówki. Cechuje się surowiczym odwarstwieniem siatkówki neurosensorycznej wtórnym do co najmniej jednej zmiany ogniskowej nabłonka barwnikowego siatkówki (RPE)1. Jest to jedna z najczęstszych, zagrażających widzeniu retinopatii obok AMD, retinopatii cukrzycowej i zakrzepu gałązki żyły środkowej siatkówki2.
W ostrej CSC odwarstwienie jest spowodowane wyciekiem ogniskowym poprzez RPE. Zazwyczaj zaburzenie ustępuje samoistnie w ciągu kilku tygodni3. Jednakże przewlekła CSC może prowadzić do trwałego uszkodzenia struktur i znaczącej utraty widzenia centralnego456.
Dostępne są różne możliwości leczenia, lecz nie ma "złotego standardu" w przypadku przewlekłej CSC7:
Konwencjonalna fotokoagulacja ma zastosowanie w wyciekach poza dołkiem, lecz wiąże się ze znaczącymi uszkodzeniami i może prowadzić do objawowych mroczków oraz neowaskularyzacji naczyniówkowej.
Można również zastosować laseroterapię PDT, jednak nawet przy ustawieniu niskich wartości, wiąże się ona z licznymi działaniami niepożądanymi, takimi jak atrofia RPE, neowaskularyzacja naczyniówkowa, niedokrwienie warstwy naczyń włosowatych naczyniówki oraz przejściowe zaburzenie czynności plamki żółtej.
Terapia żółtym światłem laserowym SubLiminal® o długości 577 nm wydaje się obiecującą strategią leczenia8.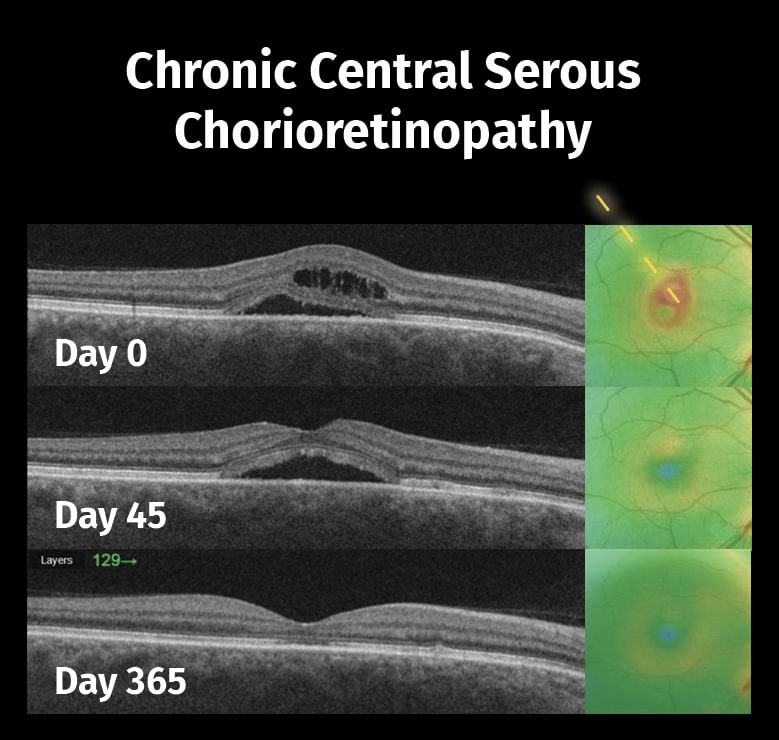 Ryciny dzięki uprzejmości dr. n. med. Alejandra Filloy Rius – Tarragona, Hiszpania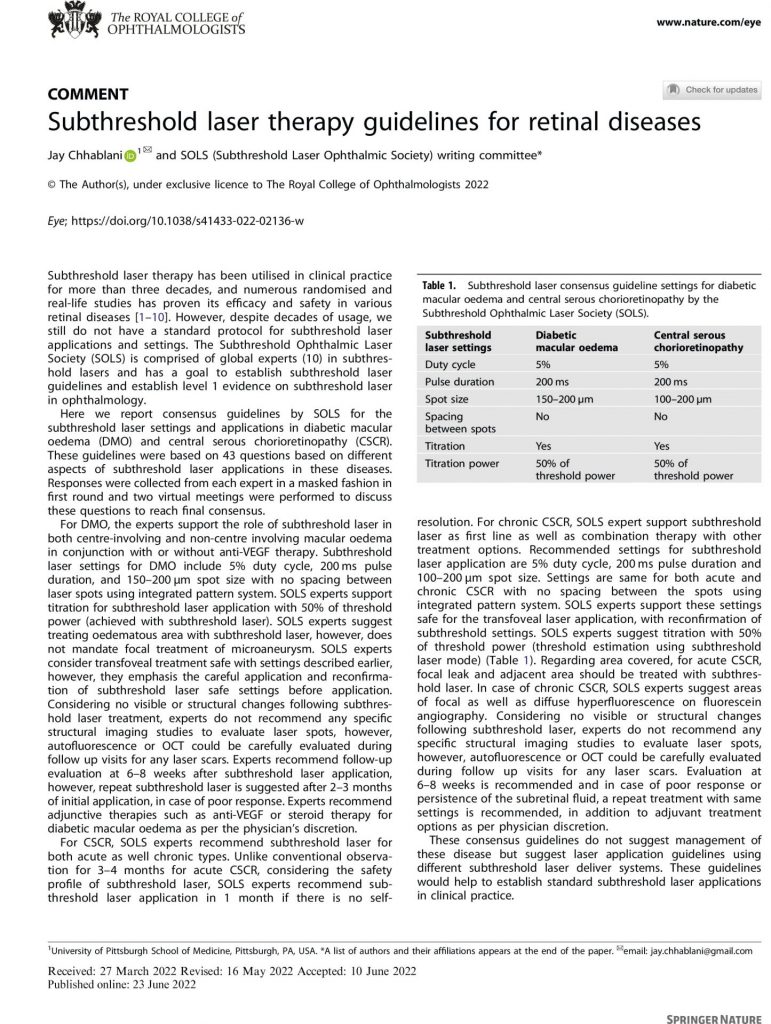 Subthreshold laser therapy guidelines for retinal diseases
Subthreshold laser therapy has been utilised in clinical practice for more than three decades, and numerous randomised and real-life studies has proven its efficacy and safety in various retinal diseases. However, despite decades of usage, we still do not have a standard protocol for subthreshold laser applications and settings.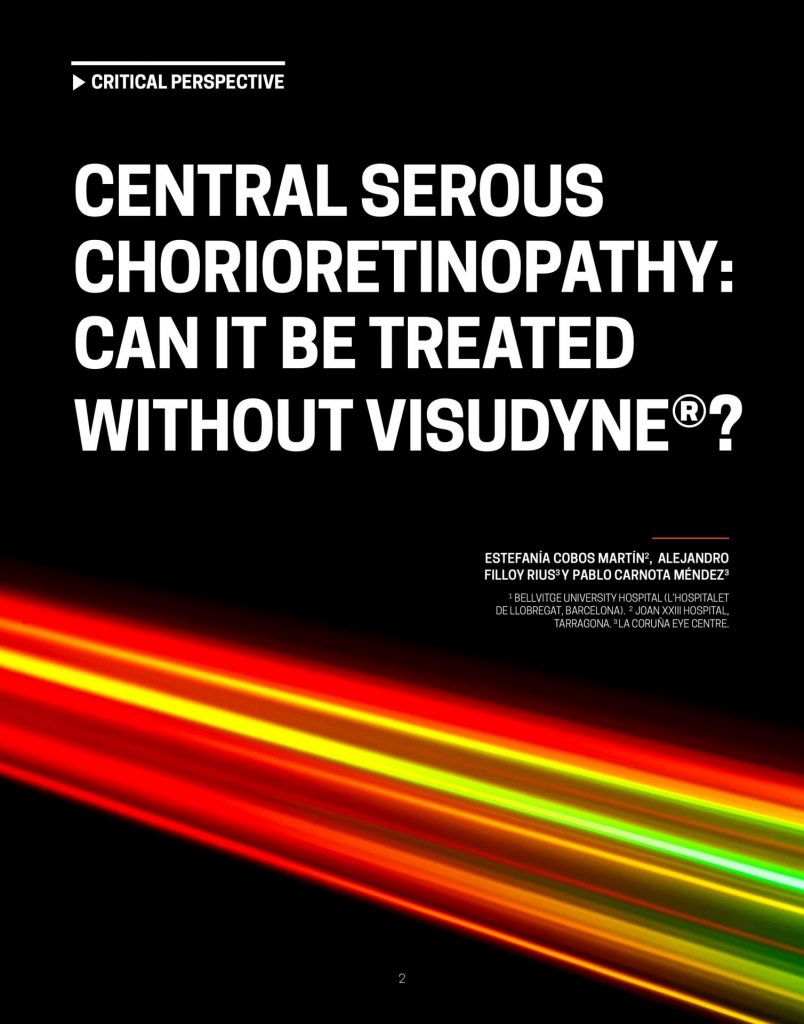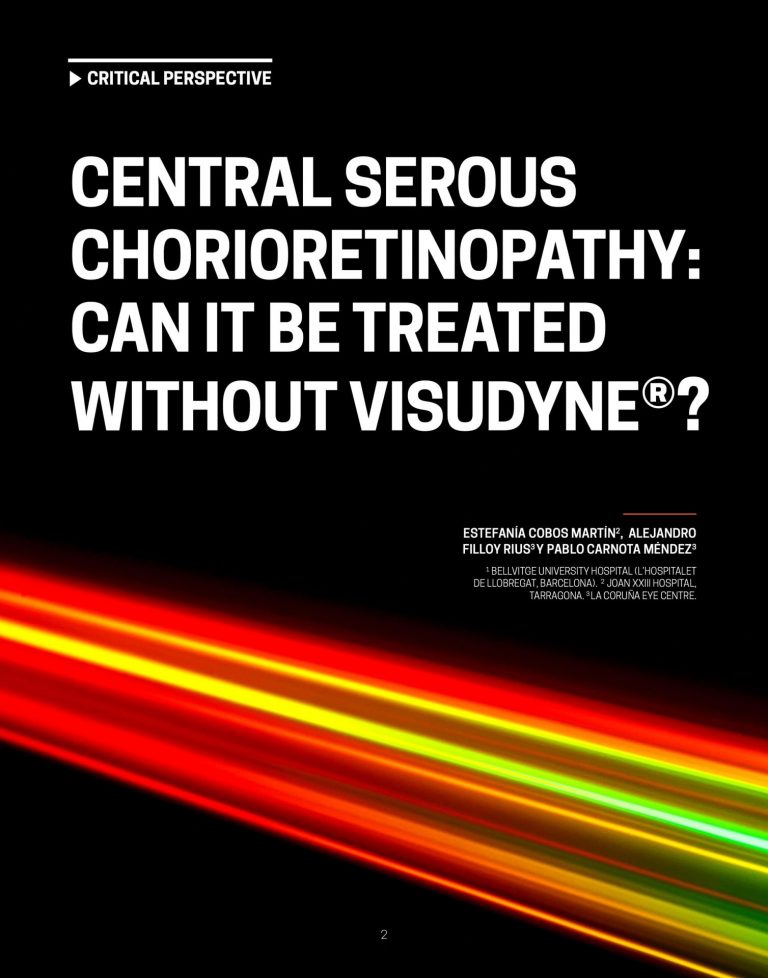 Central Serous Chorioretinopathy: Can it be treated without Visudyne?
Given the difficulty of obtaining verteporfin for chronic CSCR, it is worth considering subthreshold laser therapy as an alternative given its comparable efficacy and practical advantages. We know that the prognosis for this disease depends on the level of disease progression, so a therapeutic option that allows for an undelayed treatment is extremely interesting.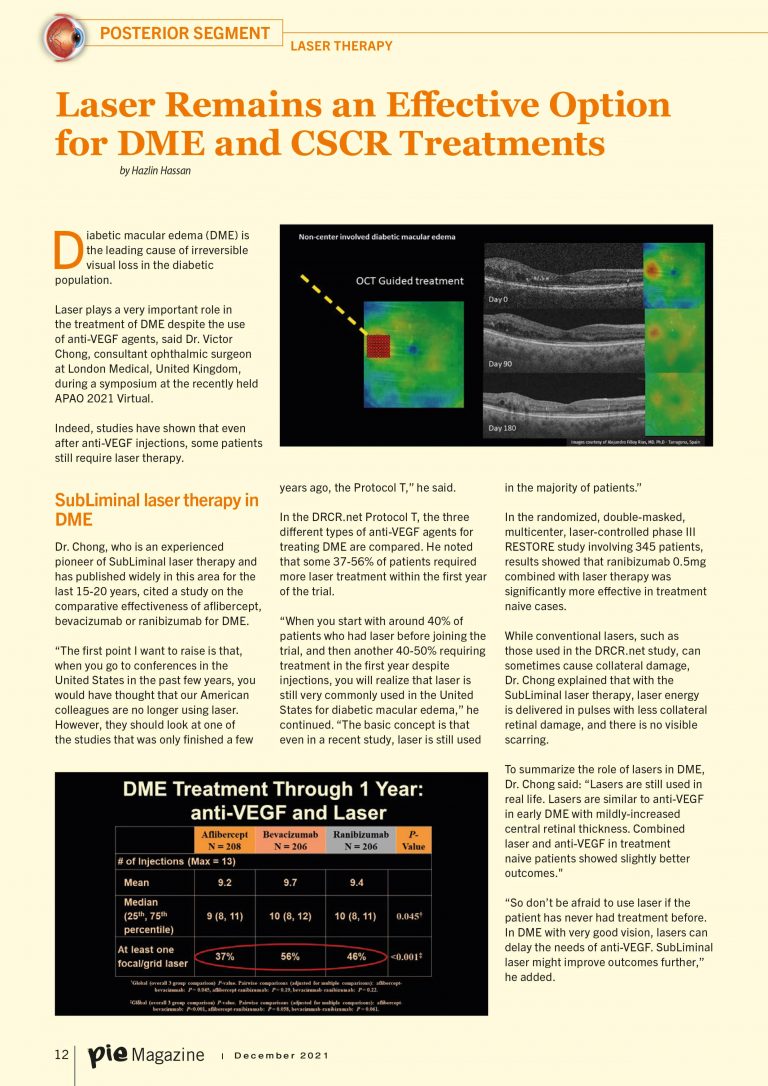 Laser Remains an Effective Option for DME and CSCR Treatments
Diabetic macular edema (DME) is the leading cause of irreversible visual loss in the diabetic population. Laser plays a very important role in the treatment of DME despite the use of anti-VEGF agents, said Dr. Victor Chong, consultant ophthalmic surgeon at London Medical, United Kingdom, during a symposium at the recently held APAO 2021 Virtual.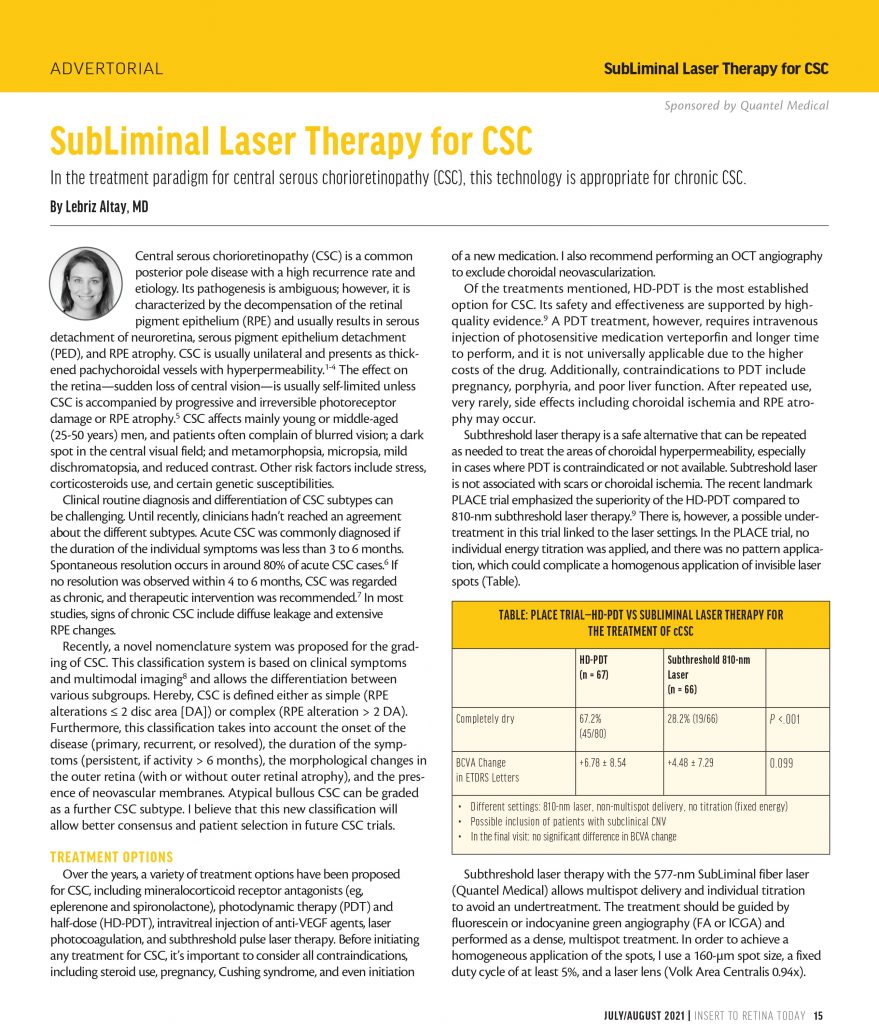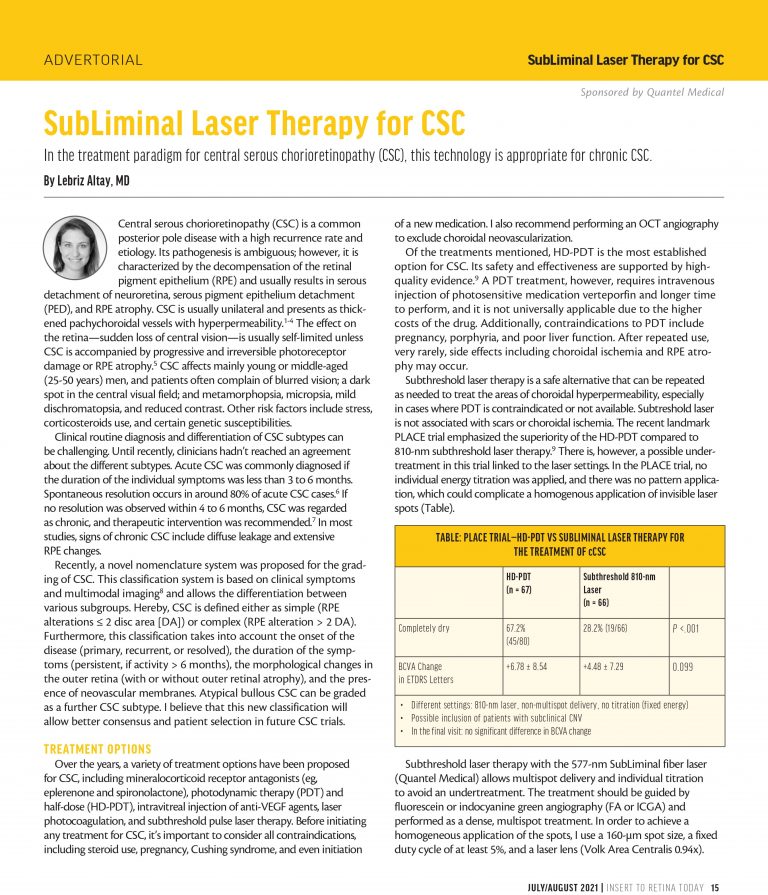 SubLiminal Laser Therapy for CSC
Central serous chorioretinopathy (CSC) is a common posterior pole disease with a high recurrence rate and etiology. Its pathogenesis is ambiguous; however, it is characterized by the decompensation of the retinal pigment epithelium (RPE) and usually results in serous detachment of neuroretina, serous pigment epithelium detachment (PED), and RPE atrophy.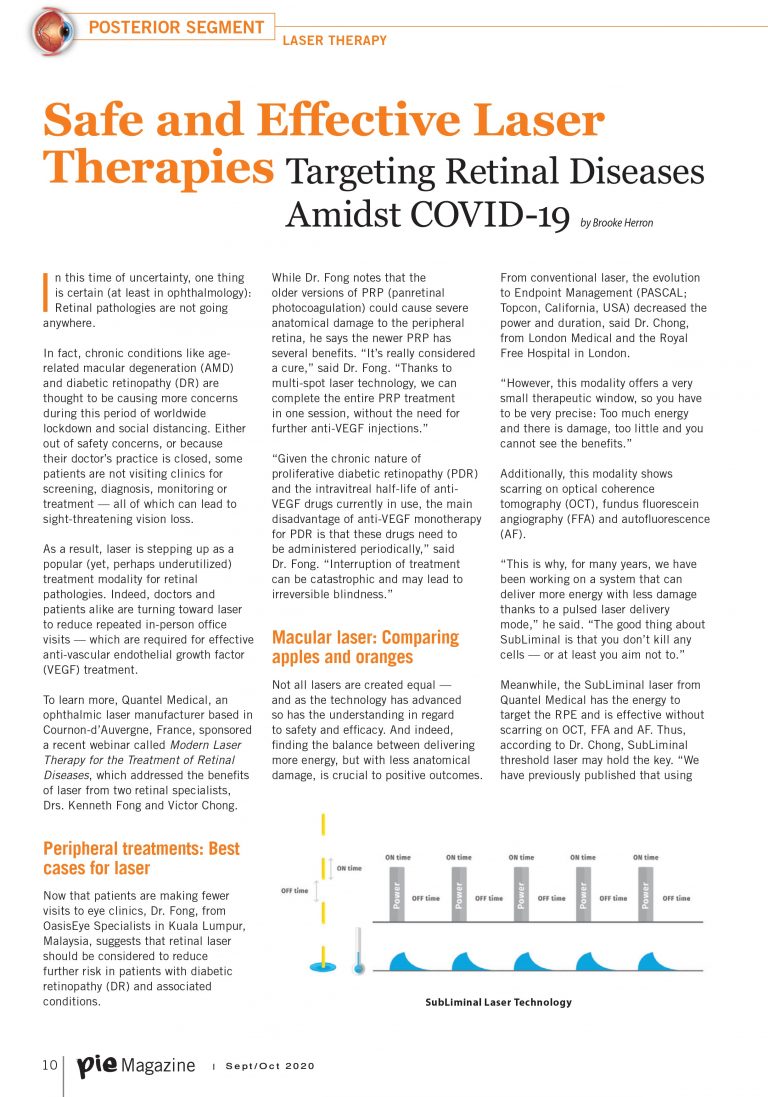 Safe and Effective Laser Therapies: Targeting Retinal Diseases Amidst COVID-19
In this time of uncertainty, one thing is certain (at least in ophthalmology): Retinal pathologies are not going anywhere. In fact, chronic conditions like age-related macular degeneration (AMD) and diabetic retinopathy (DR) are thought to be causing more concerns during this period of worldwide lockdown and social distancing.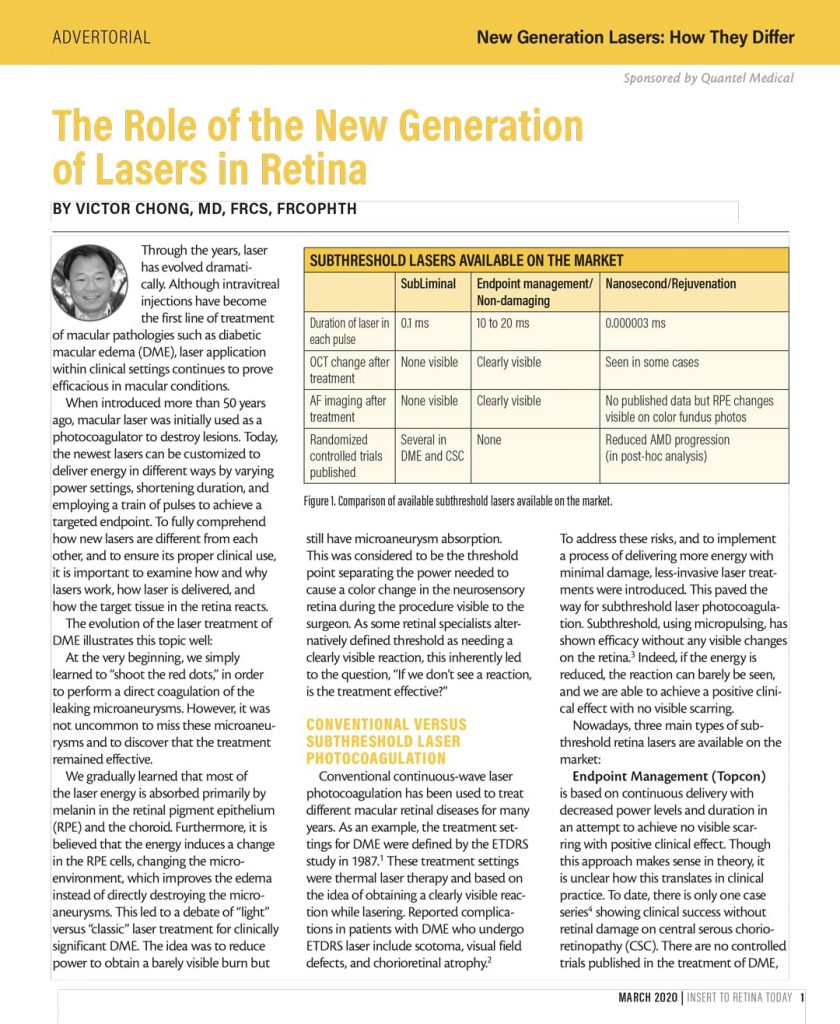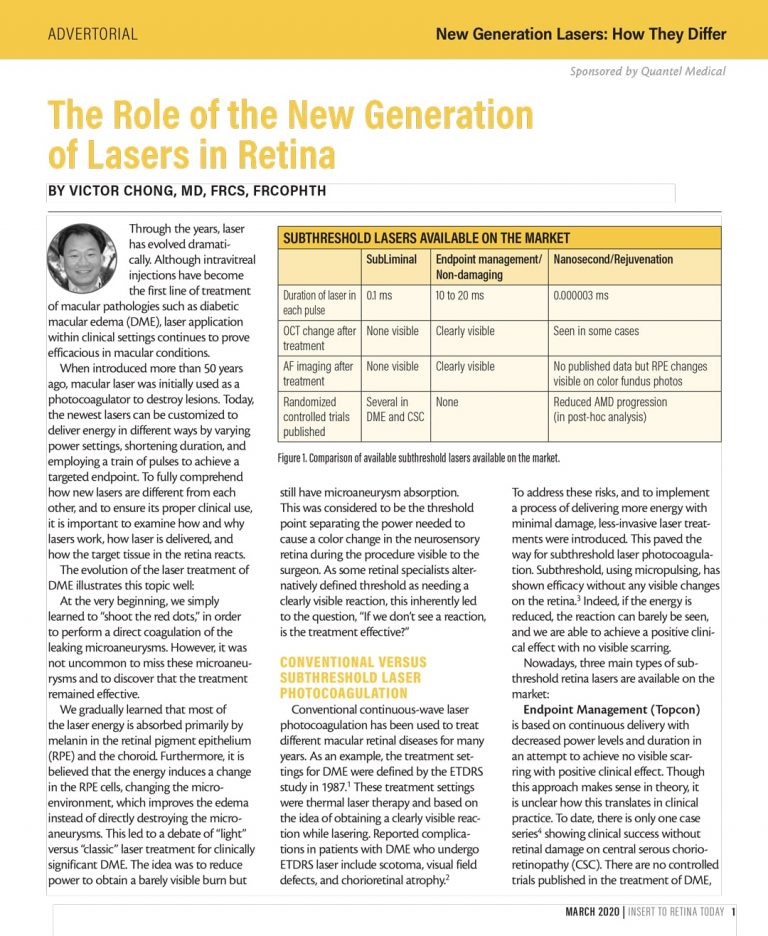 The Role of the New Generation of Lasers in Retina
Through the years, laser has evolved dramatically. Although intravitreal injections have become the first line of treatment of macular pathologies such as diabetic macular edema (DME), laser application within clinical settings continues to prove efficacious in macular conditions.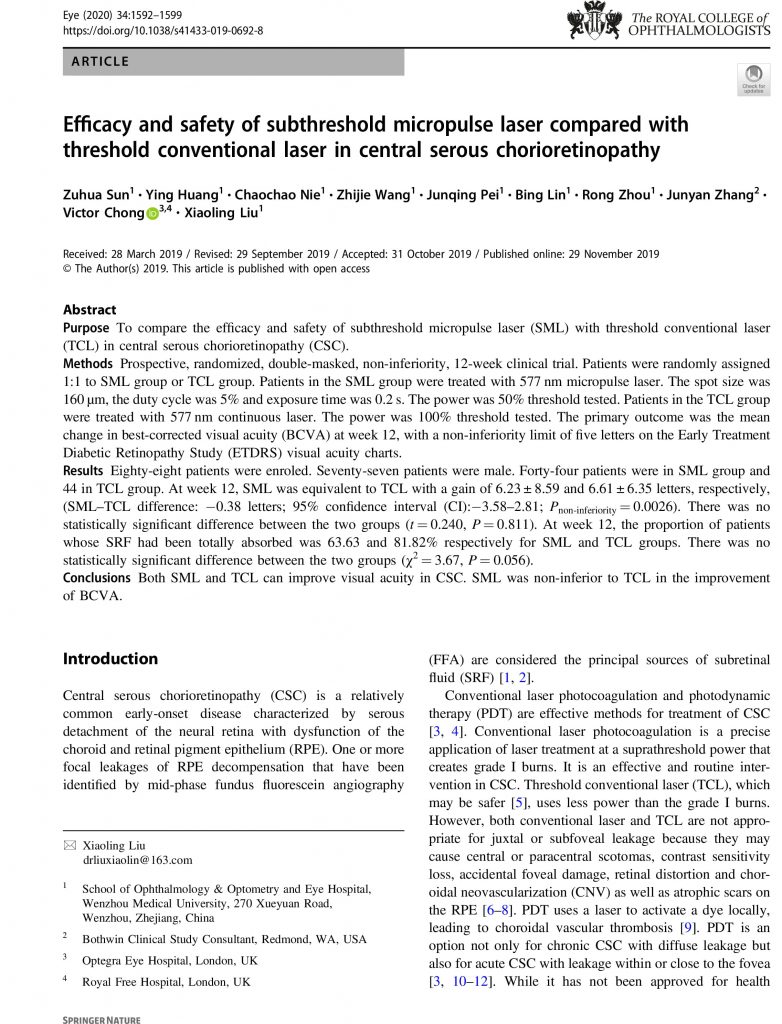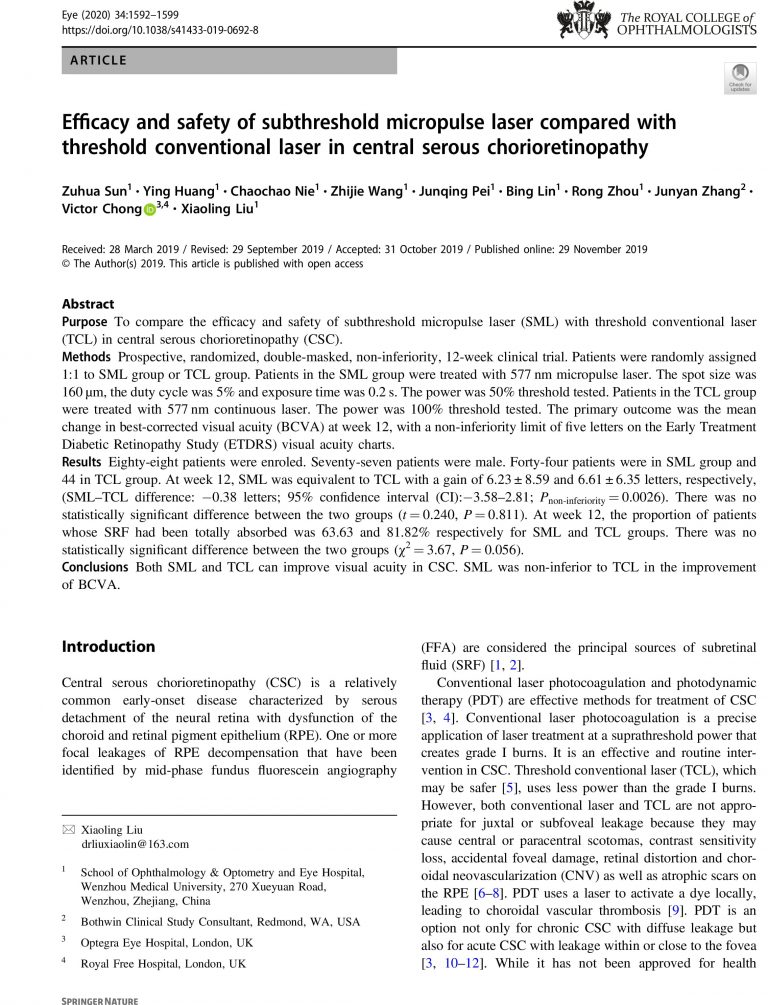 Efficacy and safety of subthreshold micropulse laser compared with threshold conventional laser in CSC
To compare the efficacy and safety of subthreshold micropulse laser (SML) with threshold conventional laser (TCL) in central serous chorioretinopathy (CSC).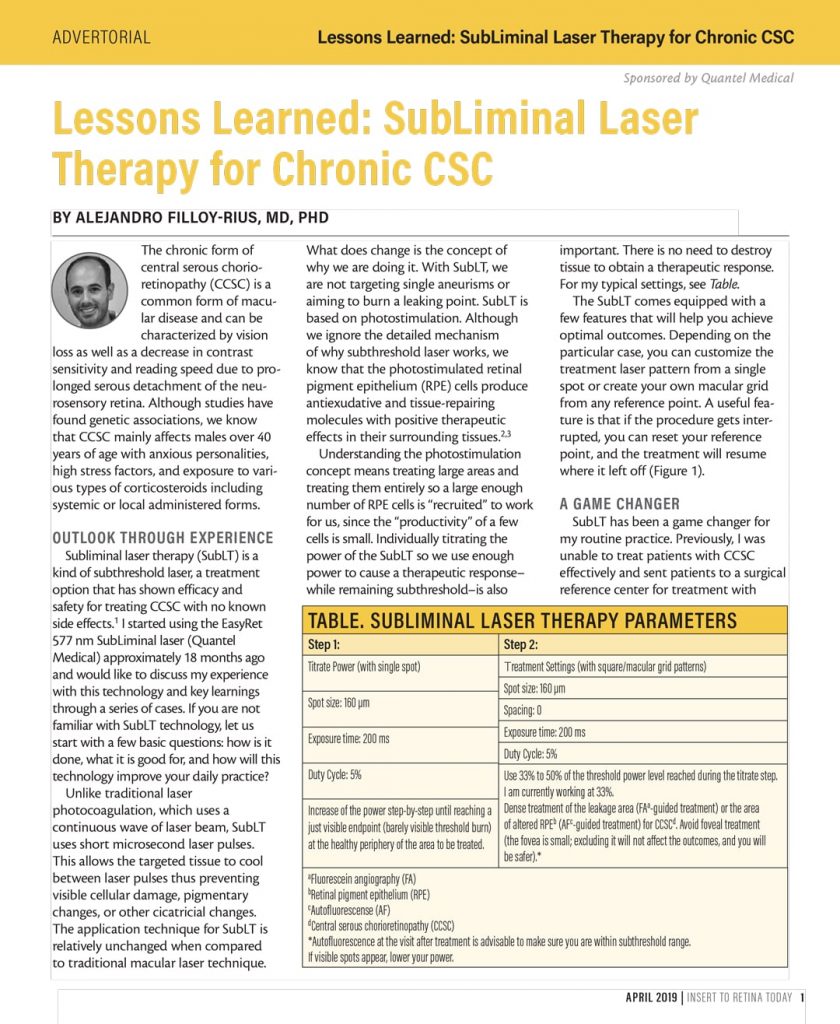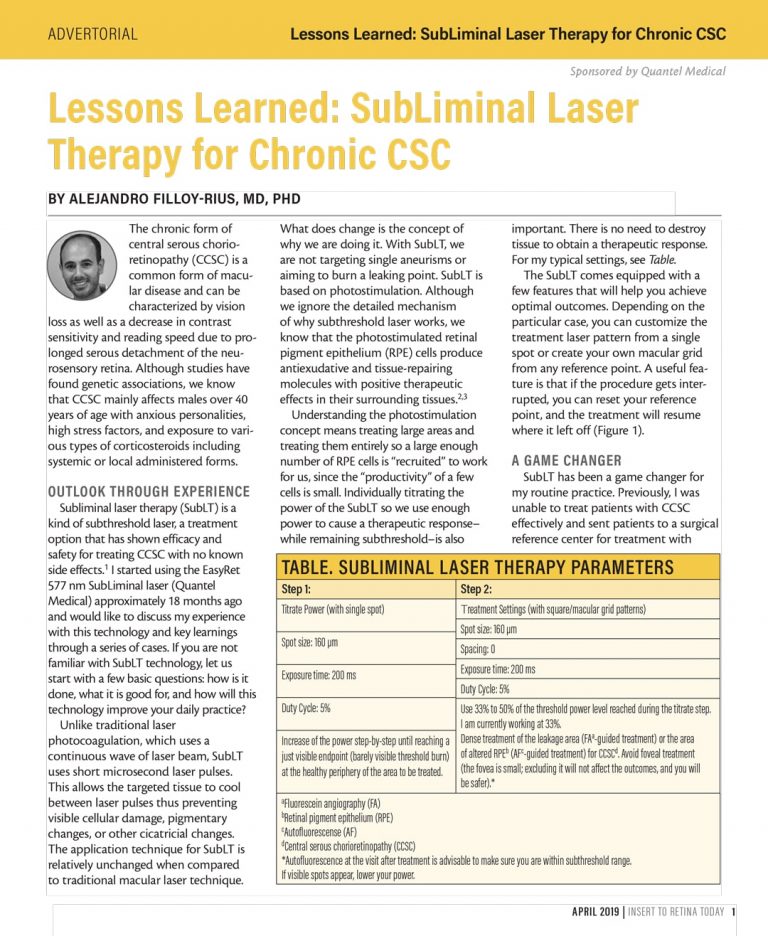 Lessons Learned: SubLiminal Laser Therapy for Chronic CSC
The chronic form of central serous chorioretinopathy (CCSC) is a common form of macular disease and can be characterized by vision loss as well as a decrease in contrast sensitivity and reading speed due to prolonged serous detachment of the neurosensory retina.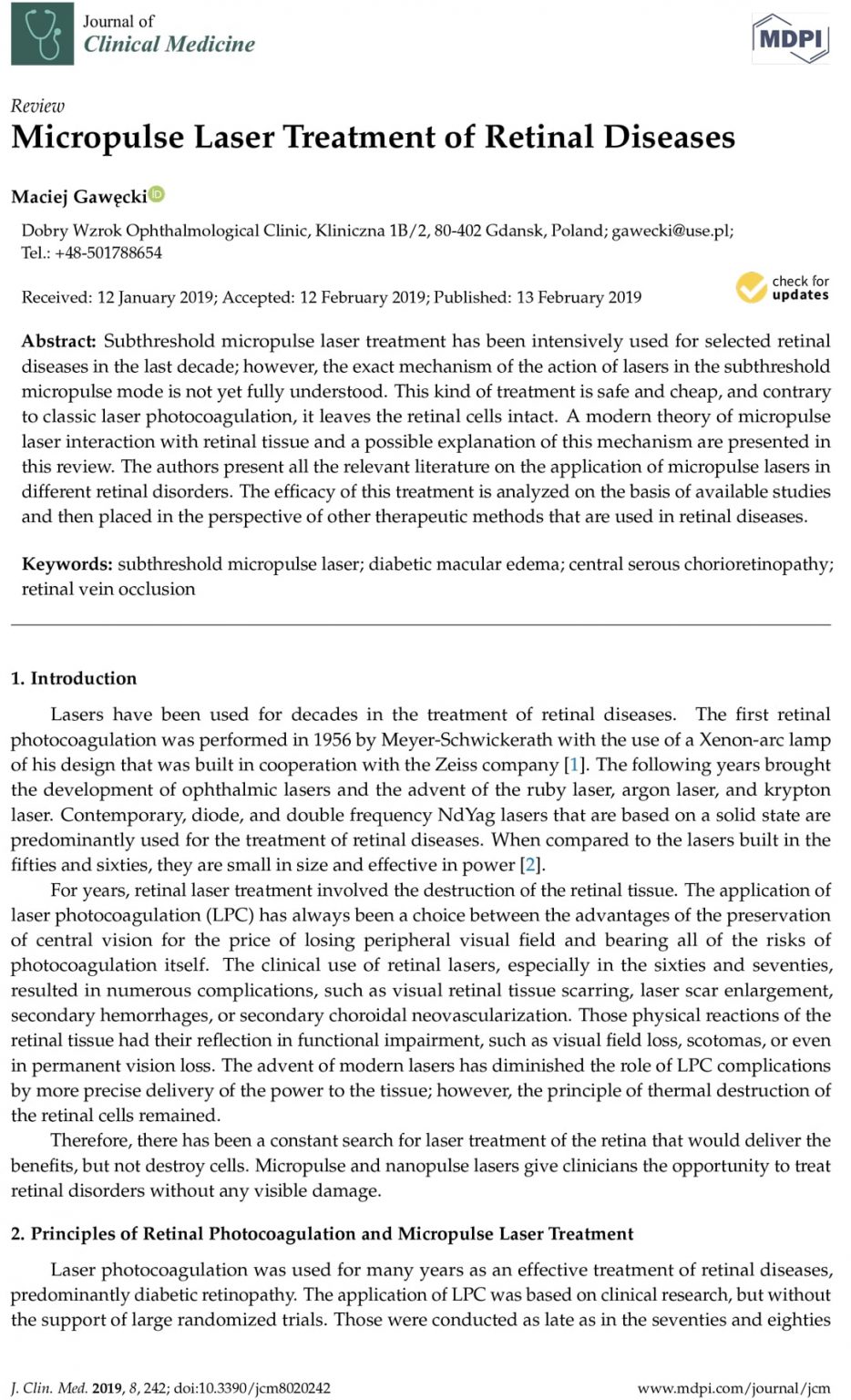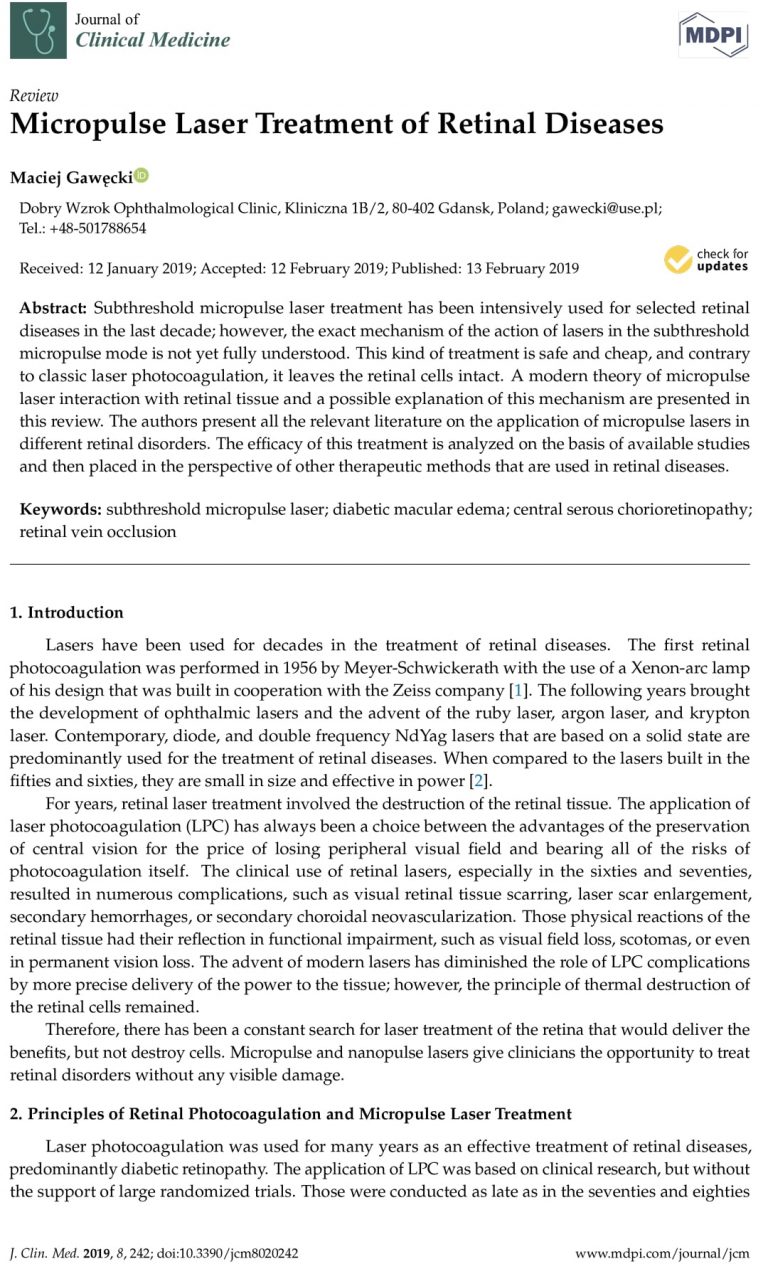 Micropulse Laser Treatment of Retinal Diseases
Subthreshold micropulse laser treatment has been intensively used for selected retinal diseases in the last decade; however, the exact mechanism of the action of lasers in the subthreshold micropulse mode is not yet fully understood.
Porozmawiaj o
podprogowejterapii laserowej
In the CSCR PACORES study, both the half-dose PDT and the yellow SubLiminal laser were effective in restoring the macular anatomy in eyes with chronic CSCR. It appears, though, that yellow SubLiminal laser had a more beneficial effect in visual acuity than half-dose PDT.
What we know today about SubLiminal laser therapy encourages us to move away from using conventional laser for macular treatment. In my experience, SubLiminal laser treatment is best suited for CSR, non-central DME, and as an adjunct for center involved DME.
The use of SubLiminal laser therapy is a safe alternative for the treatment of chronic CSC. It that can be repeated as needed to treat the areas of choroidal hyperpermeability, especially in cases where PDT is contraindicated or not available.
I have been using the Easyret 577nm SubLiminal laser for over 4 years, and it has been an exciting journey. SubLiminal laser therapy is an advanced subthreshold technology and an excellent therapeutic tool to treat DME patients and decrease the burden of monthly visits and costly injections.
DME is a huge burden to our health care system. In the part of the world where I practice, it is not feasible to do monthly anti-VEGF injections for our patients. The SubLiminal laser therapy is a safe and effective option. It can reduce the treatment burden of injections, and now that we have the latest machines with upgraded software combining Multispot and SubLiminal technologies all in one, we are experiencing a very exciting era in retinal laser therapy.
Dowiedz się więcej o terapiach