Terapia con Láser SubLiminal un tratamiento macular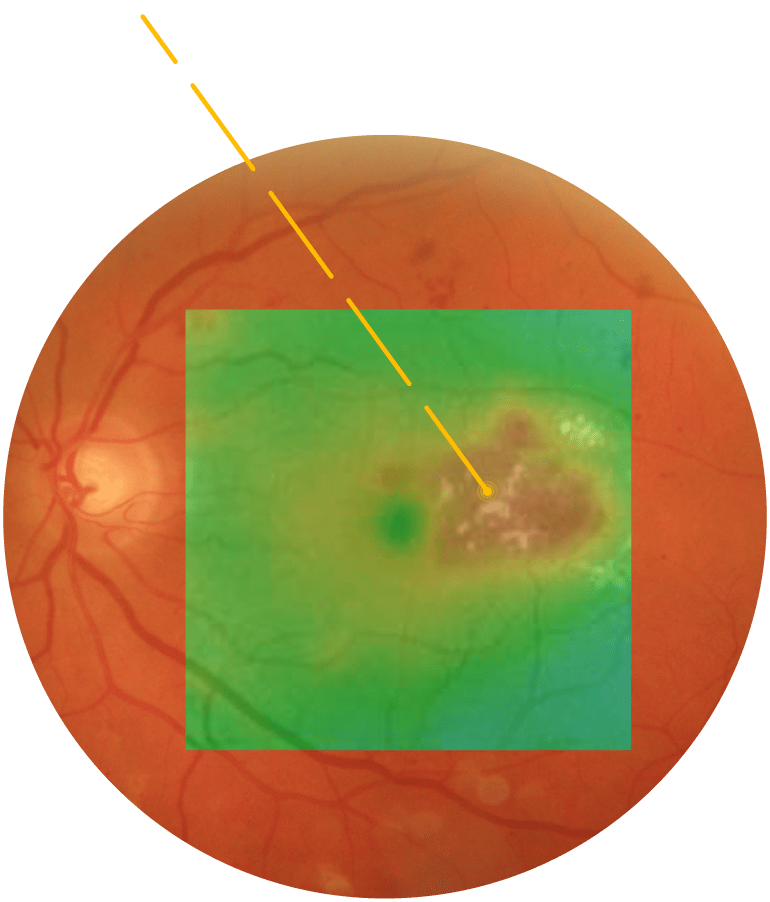 La terapia con láser SubLiminal se utiliza actualmente con mayor frecuencia en casos de enfermedades vasculares retinianas con edema macular, como el edema macular diabético (EMD) o la coriorretinopatía serosa central (CSC).
También se pueden considerar otras patologías maculares, como el edema macular secundario a oclusión de rama venosa retiniana (BRVO) o la vasculopatía coroidea polipoidea (PCV).
La terapia con láser SubLiminal es un método de suministro de energía láser a la retina que produce un efecto de bioestimulación al tiempo que minimiza el daño térmico permanente al tejido de la retina. El concepto implica administrar una «serie» de pulsos láser, cada pulso separado por el tiempo suficiente que permite la disipación del calor y reduce el daño permanente a la retina. A diferencia del tratamiento con láser macular convencional, no hay cicatrices visibles en el examen clínico, OCT o angiografía.
Consulte a continuación las pautas recomendadas para el tratamiento con láser SubLiminal preparadas por Victor Chong, MD (Reino Unido).
Pautas de tratamiento de Easyret: Modo subliminal
Basic Principles of MicroPulse Lasers
To understand MicroPulse laser technology, we must first understand conventional photocoagulation. In the latter, the laser beam is constantly "on" and its energy is absorbed by pigmented structures.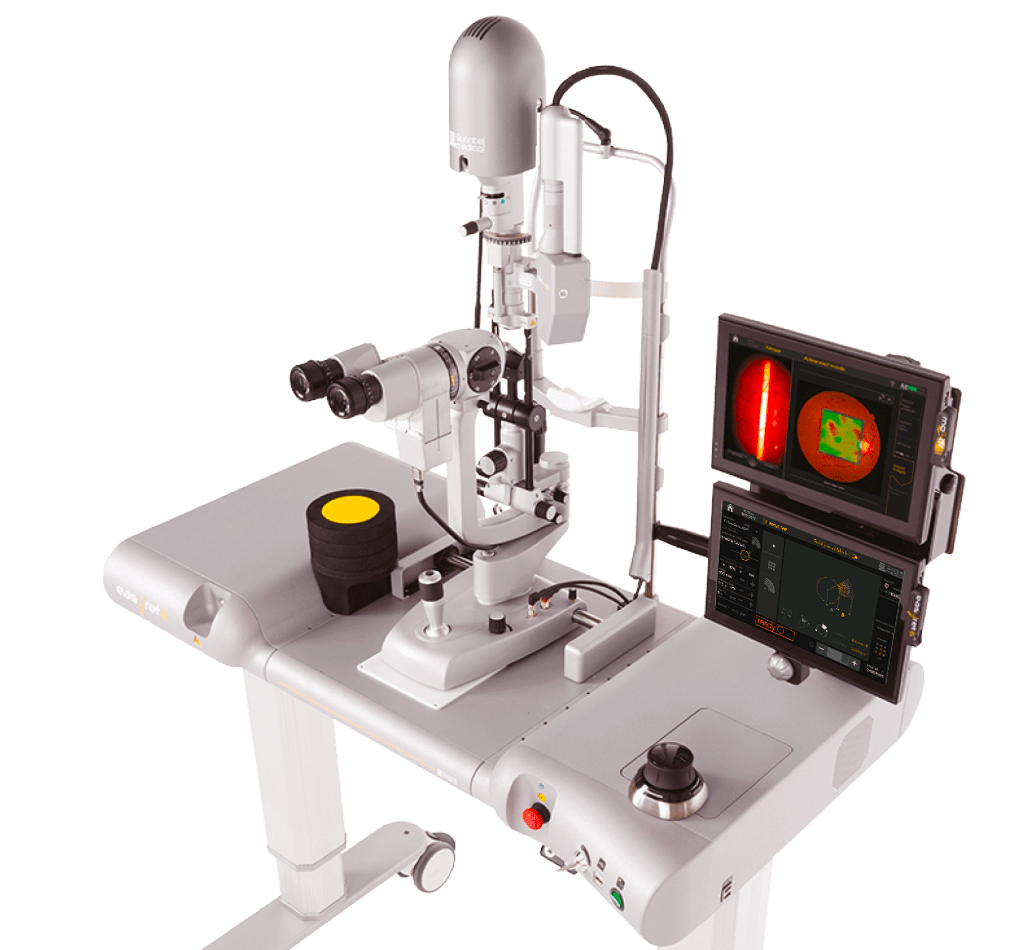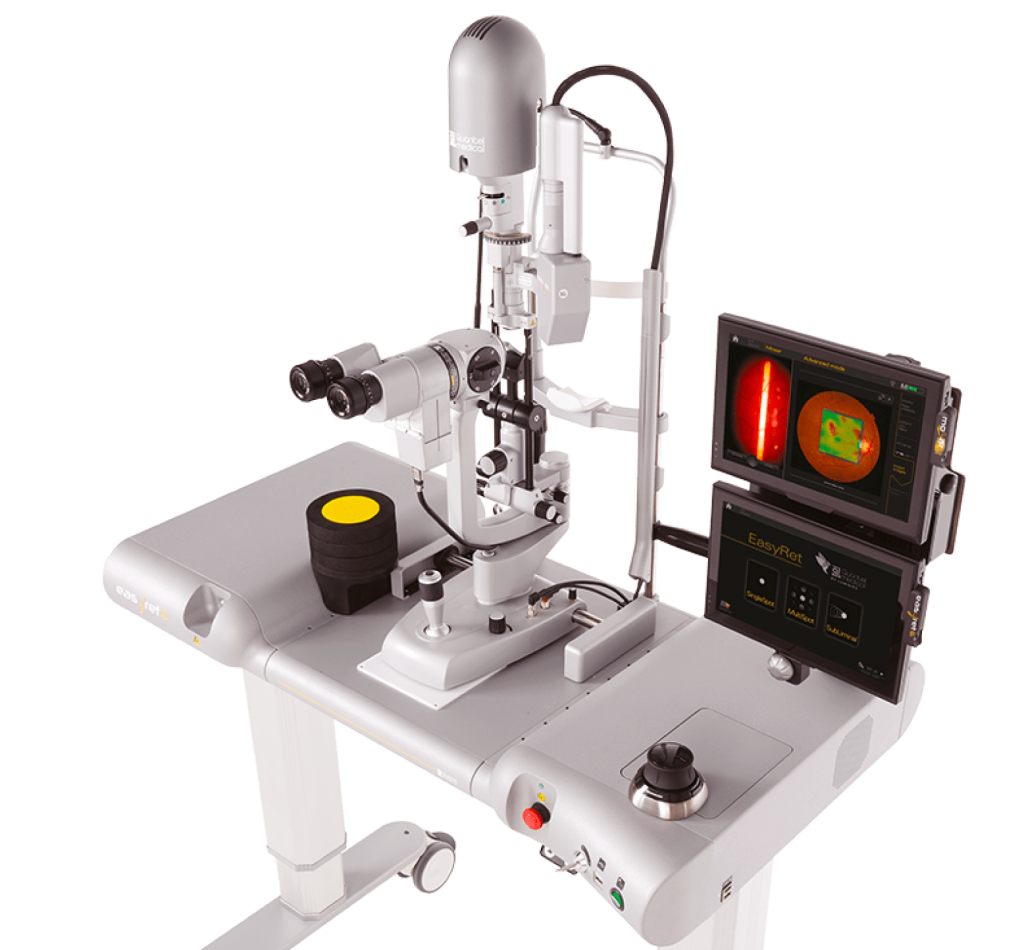 Coriorretinopatía Serosa Central
La coriorretinopatía serosa central (CSC) es una de las causas retinianas más comunes de pérdida de visión. Se caracteriza por un desprendimiento seroso de la retina neurosensorial secundario a una o más lesiones focales del epitelio pigmentario de la retina (EPR)1. Esta patología se encuentra entre las retinopatías más comunes que amenazan la visión, después de DMAE, retinopatía diabética y oclusión de rama venosa retiniana2.
En la CSC aguda, el desprendimiento es causado por una fuga focal en el EPR. Por lo general, se resuelve espontáneamente en unas pocas semanas3. Sin embargo, la CSC crónica puede provocar daños estructurales permanentes y, a menudo, una pérdida pronunciada de la visión central4 5 6.
Hay diferentes opciones de tratamiento disponibles, pero no existe un tratamiento «estándar de oro» para la CSC7crónica :
La fotocoagulación térmica tradicional se puede utilizar para fugas extrafoveales, pero es destructiva y puede provocar escotomas sintomáticos y neovascularización coroidea.
Sin embargo, también se puede usar la terapia con láser PDT, incluso cuando se usan entornos de tratamiento reducidos; también hay varios efectos secundarios, como atrofia EPR, neovascularización coroidea, isquemia coriocapillaris y reducción transitoria de la función macular.
La terapia con láser SubLiminal® amarillo de 577 nm parece ser una estrategia de tratamiento alternativa prometedora8.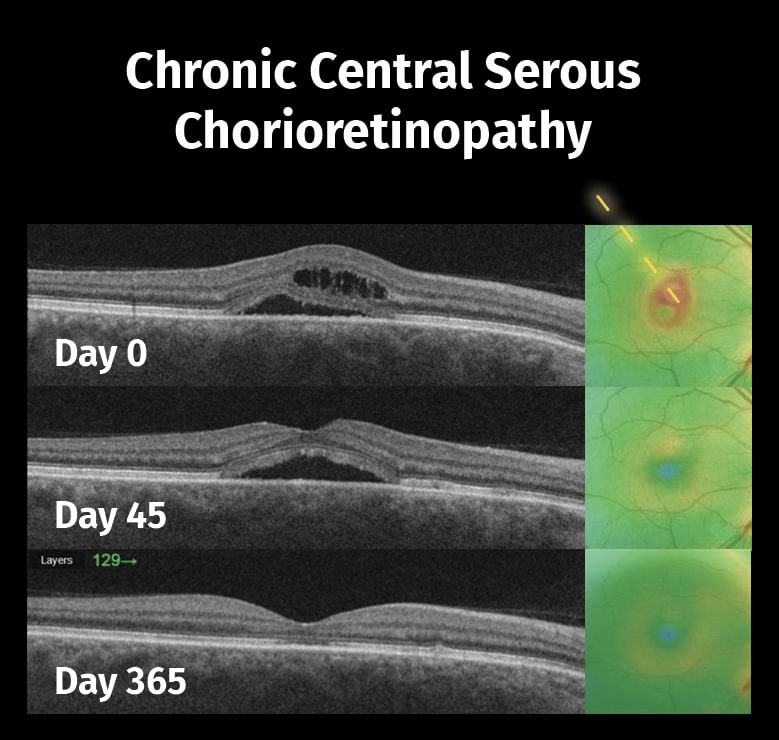 Imágenes: cortesía de Alejandro Filloy Rius, MD. PhD,
Tarragona, España.
Subthreshold laser therapy guidelines for retinal diseases
Subthreshold laser therapy has been utilised in clinical practice for more than three decades, and numerous randomised and real-life studies has proven its efficacy and safety in various retinal diseases. However, despite decades of usage, we still do not have a standard protocol for subthreshold laser applications and settings.
Coriorretinopatía Serosa Central sin Visudyne. ¿Es posible?
Ante la dificultad de obtener el verteporfín en lo que respecta a la CRSC crónica, conviene considerar como alternativa el LSU dada su eficacia equiparable y ventajas prácticas. Sabemos que esta enfermedad conlleva un pronóstico dependiente de su tiempo de evolución y una alternativa terapéutica que permita agilizar los tratamientos tendrá un efecto muy positivo.
Central Serous Chorioretinopathy: Can it be treated without Visudyne?
Given the difficulty of obtaining verteporfin for chronic CSCR, it is worth considering subthreshold laser therapy as an alternative given its comparable efficacy and practical advantages. We know that the prognosis for this disease depends on the level of disease progression, so a therapeutic option that allows for an undelayed treatment is extremely interesting.
Laser Remains an Effective Option for DME and CSCR Treatments
Diabetic macular edema (DME) is the leading cause of irreversible visual loss in the diabetic population. Laser plays a very important role in the treatment of DME despite the use of anti-VEGF agents, said Dr. Victor Chong, consultant ophthalmic surgeon at London Medical, United Kingdom, during a symposium at the recently held APAO 2021 Virtual.
SubLiminal Laser Therapy for CSC
Central serous chorioretinopathy (CSC) is a common posterior pole disease with a high recurrence rate and etiology. Its pathogenesis is ambiguous; however, it is characterized by the decompensation of the retinal pigment epithelium (RPE) and usually results in serous detachment of neuroretina, serous pigment epithelium detachment (PED), and RPE atrophy.
Safe and Effective Laser Therapies: Targeting Retinal Diseases Amidst COVID-19
In this time of uncertainty, one thing is certain (at least in ophthalmology): Retinal pathologies are not going anywhere. In fact, chronic conditions like age-related macular degeneration (AMD) and diabetic retinopathy (DR) are thought to be causing more concerns during this period of worldwide lockdown and social distancing.
The Role of the New Generation of Lasers in Retina
Through the years, laser has evolved dramatically. Although intravitreal injections have become the first line of treatment of macular pathologies such as diabetic macular edema (DME), laser application within clinical settings continues to prove efficacious in macular conditions.
Efficacy and safety of subthreshold micropulse laser compared with threshold conventional laser in CSC
To compare the efficacy and safety of subthreshold micropulse laser (SML) with threshold conventional laser (TCL) in central serous chorioretinopathy (CSC).
Lessons Learned: SubLiminal Laser Therapy for Chronic CSC
The chronic form of central serous chorioretinopathy (CCSC) is a common form of macular disease and can be characterized by vision loss as well as a decrease in contrast sensitivity and reading speed due to prolonged serous detachment of the neurosensory retina.
Talk about
SubliminalLaser Therapy
In the CSCR PACORES study, both the half-dose PDT and the yellow SubLiminal laser were effective in restoring the macular anatomy in eyes with chronic CSCR. It appears, though, that yellow SubLiminal laser had a more beneficial effect in visual acuity than half-dose PDT.
What we know today about SubLiminal laser therapy encourages us to move away from using conventional laser for macular treatment. In my experience, SubLiminal laser treatment is best suited for CSR, non-central DME, and as an adjunct for center involved DME.
The use of SubLiminal laser therapy is a safe alternative for the treatment of chronic CSC. It that can be repeated as needed to treat the areas of choroidal hyperpermeability, especially in cases where PDT is contraindicated or not available.
I have been using the Easyret 577nm SubLiminal laser for over 4 years, and it has been an exciting journey. SubLiminal laser therapy is an advanced subthreshold technology and an excellent therapeutic tool to treat DME patients and decrease the burden of monthly visits and costly injections.
DME is a huge burden to our health care system. In the part of the world where I practice, it is not feasible to do monthly anti-VEGF injections for our patients. The SubLiminal laser therapy is a safe and effective option. It can reduce the treatment burden of injections, and now that we have the latest machines with upgraded software combining Multispot and SubLiminal technologies all in one, we are experiencing a very exciting era in retinal laser therapy.
Más información sobre los tratamientos